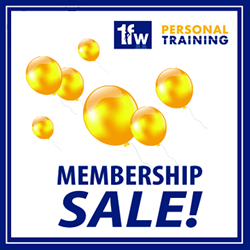 My body feel so strong at every step I take.
Phoenix, AZ (PRWEB) January 24, 2014
1fw Training first opened its doors on January 22, 2013. Created by certified personal trainer and widow, Michelle Steinke, 1fw Training is a now established virtual health, lifestyle, and fitness company focused on helping people find stress relief and renewal of life through health and fitness.
Today, the bustling startup has two programs it offers, a Community Membership and a Quest Fitness Membership. These programs have a combined following of close to 1,000 members worldwide; from Australia, to New Zealand, to Alaska, and Hawaii.
"I can not even begin to tell you all how I feel besides amazing. I have so much energy and my body feel so strong at every step I take." - Gina Wheeler Zwart, 1fw Training Quest Fitness Member
In celebration of 1fw Training's first year of business, they've created a Facebook contest that will award the winner with one free month of their Community Membership. 1fw Training will also offer a discount of 30% off the first month of a Quest Fitness Membership, and 50% off of the first month of a Community Membership.
To learn more about 1fw Training and both the Community and Quest Fitness membership packages, visit http://www.onefitwidow.com.
###
ABOUT 1FW TRAINING: 1fw Training, LLC, is a fitness and lifestyle company started by Michelle Steinke. After losing her husband in 2009, Michelle lost 80 lbs by deciding to make a difference and take back her life. This transformation is what inspired her to live her life empowering those with loss to live their life to the fullest with the help of health and fitness. Today, 1fw Training has almost 1,000 worldwide members and been featured in numerous publications on the subject of health and fitness including Shape Magazine and 85086 Magazine.