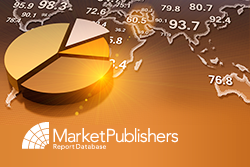 London, UK (PRWEB) January 23, 2014
The worldwide market for government biometric systems is poised to be on an upward trend through to 2024. Currently, North America ranks as the leading regional market, driven primarily by the constantly rising demand for fingerprint recognition systems in the USA. The expenditures on government biometric systems in APAC are anticipated to witness substantial growth through 2024. Meantime, other emerging markets like Africa and Latin America are also anticipated to see positive growth in the upcoming decade. The spending on biometrics systems in the European countries is likely to be propelled by the increasing demand for national ID programs and e-passports.
Biometric fingerprint identification and facial recognition segments are expected to call for the dominant market shares of the overall government biometric systems market in the next 10 years. The retinal/iris recognition segment is forecast to register a 5.79% CAGR through 2024. The major challenges being faced by the world government biometric systems market include, among others, the complexity and cost of implementation of such systems, as well as a strict control of access to databases keeping personal identification information.
New research report "The Global Government Biometric Systems Market 2014-2024" worked out by Strategic Defence Intelligence (SDI) has been recently published by Market Publishers Ltd.
Report Details:
Title: The Global Government Biometric Systems Market 2014-2024
Published: January, 2014
Pages: 173
Price: US$ 4,800.00
http://marketpublishers.com/report/industry/defence-security/global-government-biometric-systems-market-2014-2024.html
An up-to-bottom view of the current situation in the worldwide market for government biometric systems along with accurate cutting-edge estimates of the industry performance is provided in the new topical study. The research report sheds light on the historical industry evolution, features the main factors driving and/or limiting the market growth, outlines the major industry challenges and opportunities, highlights the competitive scenario, discloses the valuable data on the key market players, and also presents a snapshot of the most recent industry related news. In addition, the report contains a roadmap of the global government biometric systems industry performance in the next 10 years.
Reasons to Buy:

Receive access to a comprehensive analysis of the global market for government biometric systems.
Obtain the cutting-edge information on the historical, present and forecast industry performance.
Pinpoint the most lucrative market segments.
Get abreast of the most recent industry related news.
Understand the competitive scenario and identify the strongest market players.
Find prospective business partners.
Gain a clear idea of the prevailing market trends and develop effective business strategies.
Foresee how the market is anticipated to develop through the next decade.
More new research reports by the publisher can be found at SDI page.