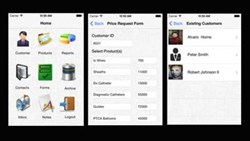 This is something that will actually be used by industry.
Hoboken, NJ (PRWEB) January 23, 2014
Stevens is capitalizing on the explosive growth of mobile phone use through the development of timely, entrepreneurial apps, including a novel iOS application for another surging industry – medical devices.
A Stevens-developed app feeds sales representatives for medical device companies instant pricing comparisons and options on the fly, an invaluable tool for sales reps in the field. The Strategic Pricing Aid (SPA) app took top honors in a recent Case Competition conducted by the Cordis Corporation, a medical device subsidiary of Johnson & Johnson.
"Sales reps typically use lots and lots of Excel documents to keep track of internal product pricing, and this information updates frequently," says Vania Nettleford '15, a computer science major from Passaic, New Jersey who teamed with biomedical engineering majors Ruchika Sharma '14 and Jen Trinh '13 to create the app. "We're talking about thousands of lines. We decided to host all that data in the cloud; then we created an app which pulled from that data anytime an update was made."
The app also incorporated more sophisticated business tools, such as the ability to pull up relevant contacts on the fly and enter client-specific notes during sales calls.
The trio's pitch impressed the judges, securing a $2,000 first prize.
"I was personally blown away by the application developed by the Stevens students, as well as their presentation to management," said Cordis Senior Analyst Lisa Danwalder, who coordinated the competition. "They demonstrated tremendous understanding of our devices and our business. And their presentation was extremely polished and well done."
While the app is not available to the public, Cordis may roll out an internal version based on the student team's idea in the very near future.
"What I really enjoyed about this process," concludes Nettleford, who originally considered studies in pediatrics before matriculating at Stevens to study programming, "was the opportunity to work on a project in the real world rather than just modeling a scenario. This is something that will actually be used by industry.
"Since my career goal is to make apps for the healthcare industry, this was an invaluable project experience."
About Stevens Institute of Technology
Stevens Institute of Technology, The Innovation University®, is a premier, private research university situated in Hoboken, N.J. overlooking the Manhattan skyline. Founded in 1870, technological innovation has been the hallmark and legacy of Stevens' education and research programs for more than 140 years. Within the university's three schools and one college, more than 6,100 undergraduate and graduate students collaborate with more than 350 faculty members in an interdisciplinary, student-centric, entrepreneurial environment to advance the frontiers of science and leverage technology to confront global challenges. Stevens is home to three national research centers of excellence, as well as joint research programs focused on critical industries such as healthcare, energy, finance, defense and STEM education and coastal sustainability. The university is consistently ranked among the nation's elite for return on investment for students, career services programs and mid-career salaries of alumni. Stevens is in the midst of a 10-year strategic plan, The Future. Ours to Create., designed to further extend the Stevens legacy to create a forward-looking and far-reaching institution with global impact.