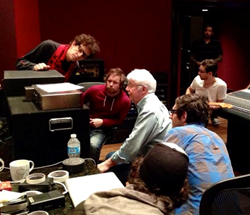 "The Blackbird Academy is a mentorship program along the same lines as my training at EMI Studios and Abbey Road." -Ken Scott
Nashville,TN (PRWEB) January 23, 2014
The inaugural class at The Blackbird Academy had the rare opportunity to spend six days in the studio with legendary engineer/producer Ken Scott. As part of their regular curriculum, Ken mentored them through two days of tracking, two days of overdubs and two days of final mixes with New Hampshire band Ryan Ordway. At the end of the six-day session two songs were completed.
"Having received what I consider to be the best training imaginable I found it hard to watch the decline in tutelage afforded the modern day sound recording students," Ken Scott said, "That was until I was introduced to the Blackbird Academy, a mentorship program along the same lines as my training at EMI Studios, Abbey Road. I was recently honored to spend six days with the first group of students, as one of several varied guests aiding in the teaching and coaching of these 30 eager young people at the beginning of their vocation. I very much look forward to spending time with future students, of both Blackbird Academy and as part of a series of open master classes, 'The Blackbird Studio Sessions', beginning in April 2014."
Students were excited to learn first hand drum-miking techniques, Scott first used on Beatles tracks more than four decades ago. Additionally, they were able to use the same microphones from that era, blending the best of classic techniques into modern production workflow.
Ken Scott will return April 14 – 18, 2014 to engineer/produce Sheryl Crow in our "Blackbird Studio Sessions", contact us for more information on reserving your seat to this event.
"We are so honored to have Ken Scott working with and teaching our students at The Blackbird Academy," says John McBride, Founder of The Blackbird Academy and Blackbird Studio. "Ken is one of the greatest engineer/producers alive today and his incredible history and resume are second to none! We look forward to his return for the first 'Blackbird Studio Sessions' in April. His mentorship is one of many highlights that afforded The Blackbird Academy students and instructors! Thank you Ken!"
Ryan Ordway walked away with both songs. "On behalf of the band and myself this past week was the most amazing time of our lives!" Ordway said.