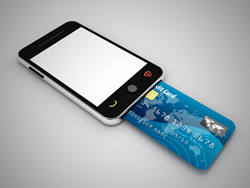 MONEXgroup is the clear choice to handle all your payment processing needs.
Toronto, Ontario, Canada (PRWEB) January 23, 2014
The affects of Cyber Monday are still lingering. There's no denying that online shopping has been making significant gains in the retail landscape and shopping in brick and mortar stores is on the decline. In fact, the latest information from IBM has revealed that online purchases made on mobile devices and tablets are on a steady, confident increase.
In their 2013 Digital Analytics Benchmark Report, IBM revealed that nearly 32 per cent of all online traffic on Cyber Monday was through a smartphone or tablet and over 17 per cent of all debit and credit transactions were made on the handheld devices, itself.
"The mobile device has become the shopping companion of choice for consumers, driving record mobile sales with 55 percent growth over last year," said Jay Henderson, Strategy Director, IBM Smarter Commerce.
Named the best Canadian payment processor by Top Credit Card Processors, MONEXgroup offers all the eCommerce solutions required for a business to establish a key online presence.
"It's clear that in today's retail economy, having the ability to process debit and credit transactions online is a necessity," says Parry Rosenberg, Vice President of Sales and Marketing at MONEXgroup. "With competitive rates and top-notch customer service, MONEXgroup is the ideal destination for businesses looking to establish a presence online."
With perfect scores across the board from Top Credit Card Processors, MONEXgroup is the clear choice to handle all your payment processing needs. Online retail is the future - and the future is now.
MONEXgroup is the number one payment processing provider in Canada offering the lowest rates in the industry. Our services include: debit card and credit card point-of-sale (pos) terminals, mobile, integrated and e-commerce online payment products. MONEXgroup serves over 20,000 merchant accounts across Canada in all market segments including: restaurants, business-to-business, professional services, leisure and hospitality.
Holly Murray
MONEXgroup
Marketing Communications
HMurray(at)MonexGroup(dot)com
T: 647 204 0197
http://www.monexgroup.com