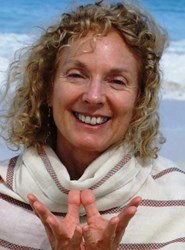 "It's important to be present and . . . attuned to that individual. We're not just using a formula . . . The attunement is essential. We create that safe and sacred container together."
(PRWEB) February 18, 2014
Integrated Health Yoga Therapy faculty member and LifeForceYoga Healing Institute founder Amy Weintraub's pioneering work in the field of yoga and mental health has recently found new expression in a series of online videos, aimed at empowering health professionals, yoga therapists, and patients themselves by diligently exploring the healing potential of yoga for depression and anxiety, and viewable at http://yogafordepression.com/section/articles/video-articles/.
Included in these videos is the story of Amy's own struggle with depression and subsequent recovery made possible through the combination of a meditation practice started earlier in life and the subsequent adoption of a Kripalu yoga practice. She embarked in 1989 upon a passionate exploration of yoga's healing possibilities. This culminated in the cautious, highly individualized, uniquely empowering approach that today defines LifeForce's evidence-based yoga protocols for managing mood.
Amy Weintraub's list of accomplishments in the field of yoga and mental health are highly impressive and can be viewed more comprehensively at the IHYT faculty page at http://www.ihyt.org#!faculty/cjg9. Briefly, Amy has studied with yoga masters and meditation teachers in the US and India and is a much sought-after speaker and workshop-leader at conferences and professional trainings around the world. Those inspired by the online videos might look into a free subscription to LifeForce Yoga Research and News at http://yogafordepression.com/section/research-newsletter/ or Amy's two acclaimed books on the subject. Yoga for Depression (Broadway Books, 2004) was the first book written on yoga and mental health, both a highly personal account of Amy's own healing process and a thorough exposition of why we suffer, why yoga works, and which aspects work. Yoga Skills for Therapists (W.W. Norton, 2012) was the first book on the subject aimed specifically at health care professionals, and provides a practical, hands-on guide enabling therapists to master basic yoga techniques and customize them to patients' specific healing processes. Also available are educational materials inspired by the LifeForce evidence-based yoga protocols such as Amy's award-winning LifeForce Yoga to Beat the Blues DVDs.
Amy's work is meticulously researched, and she continues to be involved in scientific studies on the efficacy of yoga in managing mood. Independent studies bear out her own. In 2013 a Duke University study looked comprehensively at previous trials "to systematically examine the evidence for efficacy of yoga in the treatment of selected major psychiatric disorders." They published their findings in Frontiers in Affective Disorders and Psychiatric Research, concluding that there is evidence yoga provides benefits in the treatment of depression, among other disorders.
The LifeForce yoga protocols shouldn't be confused with yoga practice itself. Many aspects of Amy's approach are rarely found in regular yoga classes. LifeForce integrates a rigorous application of modern research and innovation with a wide range of yogic practices grounded in thousands of years of ancient research and innovation. Some of these include pranayama and kriya breathing techniques, hand mudras, simple mantras, various forms of meditation, intention practice, yoga nidra, guided imagery and affirmation, and of course customized applications of the asanas. All of these potential tools, according to Amy, must be chosen carefully and attuned to each unique healing process, as expressed in an interview with Yoga Teacher Magazine at http://www.yogateachermagazine.com/content/amy-weintraub :
"It's important to be present and [. . .] attuned to that individual. We're not just using a formula [. . .] We create that safe and sacred container together."
Amy Weintraub's approach not only arms the therapist with a multitude of resources to customize the therapy but also empowers the patient to take control of their own healing process:
"So it is not about fixing but about giving people tools to empower themselves, putting them in the driver's seat, taking off the expert's hat and just being there as a holding container, creating that safe container through ritual , through permission, through empowerment."
Amy Weintraub's videos comprise another fine tool for therapists looking to 'empower people to empower themselves'. Amy's evidence-based yoga protocols for mood managements are appropriate for integration into a wide range of healthcare and yoga therapy settings, and their place in our curriculum constitutes just one of the many unique functions of the IHYT approach to yoga therapy. For workshops featuring Amy, check out the Integrated Health Yoga Therapy calendar at http://www.ihyt.org/#!calendar/c1ke7.
About Integrated Health Yoga Therapy
IHYT is a yoga therapy school for a wide range of health professionals whose practices might benefit from the skill-sets and philosophy underlying therapeutic yoga. Yoga therapy is becoming more and more recognized and utilized by the medical-scientific community as a safe and effective complementary therapy and treatment in a wide range of conditions. IHYT offers a carefully selected curriculum of evidence-based educational programs taught by faculty who are leaders in their respective fields, as outlined on our website at http://www.ihyt.org/.