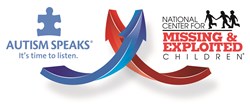 New York, N.Y. (PRWEB) January 23, 2014
Autism Speaks, the world's leading autism science and advocacy organization, and the National Center for Missing & Exploited Children today have formed a partnership to address autism wandering incidents. The issue of wandering and its consequences has been brought to the forefront with the tragic death of Avonte Oquendo (source: NBC New York, Jan. 22, 2014), a 14 year-old boy with autism spectrum disorder (ASD) who wandered from his New York City school last October.
A recent study by the Interactive Autism Network, funded in-part by Autism Speaks, reported that 49 percent of people with ASD are prone to wandering. The partnership will take actionable steps toward preventing and responding to wandering incidents through the development of an emergency portal on the Autism Speaks website, AutismSpeaks.org. The portal will include autism safety information and resources, and phone numbers and email addresses at the National Center for Missing & Exploited Children to report a child with ASD who is missing.
People with ASD can become particularly vulnerable if they go missing. Given some of the core symptoms of the disorder, such as communication difficulties and lack of speech, nearly one-third of the individuals who wander may not be able to say their name, phone number or address. Some individuals with ASD also may not fully understand danger, and can become attracted to distant objects and bodies of water. This poses a significant threat to the safety and well-being of those with ASD who are prone to wandering.
"The tragic fate of Avonte Oquendo hit home with parents in New York and across the country," said Autism Speaks President Liz Feld. "The incidence of wandering has reached frightening levels and individuals with autism are especially vulnerable. With the National Center for Missing & Exploited Children, Autism Speaks will take specific measures to prevent and respond to wandering events. This partnership is about action. We will devote tools and resources to educate parents, school staff, first-responders and communities so they are prepared to protect our children wherever they are."
As part of the partnership, Autism Speaks and the National Center for Missing & Exploited Children will work together to educate community organizations, school personnel, first-responders, and families and caregivers in the autism community about wandering, safety measures to prevent it from occurring, and how to respond when someone with ASD goes missing. Wandering resources supplied by Autism Speaks will also be available on the National Center for Missing & Exploited Children's website. This information includes safety tips in the home and community, and the appropriate steps to take when interacting with a person with ASD who has wandered.
"We have seen the unique challenges that law enforcement face when working cases that involve children with autism. Their tendency to wander puts many of these children at risk for serious harm," said National Center for Missing & Exploited Children President and CEO John Ryan. "Together with Autism Speaks, we are reaching families and law enforcement to provide potentially life-saving information about how to respond when a child with autism goes missing. We are grateful for organizations such as Autism Speaks and know that together, we can help save lives."
If a person with ASD goes missing or wanders, families and caregivers, or those in the vicinity, should always alert local authorities first and immediately. Autism Speaks can be contacted for additional assistance only after local authorities have implemented the necessary procedures to find a missing person. The level of support provided by Autism Speaks will be based on the needs of the family of the missing person and supplemental to the efforts of first-responders.
Autism Speaks offers wandering tips and safety information for families and caregivers on its website, AutismSpeaks.org.
The National Center for Missing & Exploited Children provides search protocols for law enforcement, first responders and others for children with special needs.
About Autism
Autism is a general term used to describe a group of complex developmental brain disorders – autism spectrum disorders – caused by a combination of genes and environmental influences. These disorders are characterized, in varying degrees, by communication difficulties, social and behavioral challenges, as well as repetitive behaviors. An estimated 1 in 88 children in the U.S. is on the autism spectrum – a 78 percent increase in six years that is only partly explained by improved diagnosis.
About Autism Speaks
Autism Speaks is the world's leading autism science and advocacy organization. It is dedicated to funding research into the causes, prevention, treatments and a cure for autism; increasing awareness of autism spectrum disorders; and advocating for the needs of individuals with autism and their families. Autism Speaks was founded in February 2005 by Suzanne and Bob Wright, the grandparents of a child with autism. Mr. Wright is the former vice chairman of General Electric and chief executive officer of NBC and NBC Universal. Since its inception, Autism Speaks has committed nearly $200 million to research and developing innovative resources for families. Each year Walk Now for Autism Speaks events are held in more than 100 cities across North America. On the global front, Autism Speaks has established partnerships in more than 40 countries on five continents to foster international research, services and awareness. To learn more about Autism Speaks, please visit http://www.autismspeaks.org.
About the National Center for Missing & Exploited Children®
The National Center for Missing & Exploited Children is the leading 501(c)(3) nonprofit organization working with law enforcement, families and the professionals who serve them on issues relating to missing and sexually exploited children. Authorized by Congress to serve as the nation's clearinghouse on these issues, NCMEC operates a hotline, 1-800-THE-LOST® (1-800-843-5678), and has assisted law enforcement in the recovery of more than 191,000 children. NCMEC also operates the CyberTipline, a mechanism for reporting child pornography, child sex trafficking and other forms of child sexual exploitation. Since it was created in 1998, more than 2.2 million reports of suspected child sexual exploitation have been received, and more than 104 million suspected child pornography images have been reviewed. NCMEC works in partnership with the U.S. Department of Justice's Office of Juvenile Justice and Delinquency Prevention. To learn more about NCMEC, visit http://www.missingkids.com. Follow NCMEC on Twitter and like NCMEC on Facebook.
###