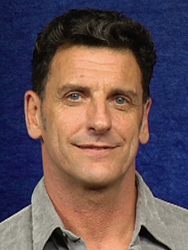 We all have personal experiences with grief, from faded youth to failed relationships to the loss of a job or valued material possession.
(PRWEB) February 26, 2014
Integrated Health Yoga Therapy (http://www.ihyt.org/) faculty member Antonio Sausys's first book Yoga for Grief Relief: Simple Practices for Transforming Your Grieving Mind and Body (New Harbinger Publications, June 1 2014) conducts an evidence-based yet deeply personal exploration of grief, then draws from his own trail-blazing work in yoga therapy to offer a step-by-step, illustrated guide to applying specific yoga practices to not only facilitate but ultimately transform the grieving process.
Antonio Sausys, a California-based somatic health practitioner and yoga instructor, holds a unique vantage point. His background in somatic psychotherapy, combined with a broad yogic foundation that included study with such masters as Indra Devi, Swami Shankaradevananda, and Larry Payne, have allowed him to examine grief holistically. His subsequent accomplishments include teacher and lecturer at a variety of institutions such as UC Berkeley and the International Yoga College, creator of the Yoga for Grief Relief and Yoga For Cancer programs, founder and Executive Director of Yoga for Health (the first International Yoga Therapy Conference), radio host at http://www.iamhealthyradio.com/antonio_sausys_1.html, and TV host at http://www.yogiviews.com. For more check out our faculty site at http://www.ihyt.org/#!faculty/cjg9 or Antonio's bio on the Yoga for Grief Relief site at http://www.yogaforgriefrelief.com/id1.html.
Grief is not always about death. We all have experience with grief, from faded youth to failed love to the loss of a job or valued material possession. And far from being strictly emotional, grief can express itself in a variety of physical forms such as poor posture, insomnia, lack of energy, shortness of breath, even actual physical pain.
Antonio's journey toward yoga for grief relief began with the death of his mother and dear friend of a stroke at age 52, when he was only 19. This threw him into a state of denial for several years before he was "able to be with the pain of grief." Shortly thereafter, while studying The Degriefing Process under founder Lynn Prashant, he had the inspiration that yoga, too, could be a vital force in addressing grief.
One of the Degriefing premises states "grief is the most available, untapped emotional resource for personal transformation." Working at Prashant's request, Antonio began to investigate possible uses of yoga as a transformative aspect of grief relief. This was the genesis of Yoga for Grief Relief, adopted for use in The Degriefing Process as well as Antonio's own practice.
The grief relief protocol centers around a physical and spiritual routine called 'Yoga Sadhana'. Included in a Sadhana are 6 elements of yoga: Pranayama, Asana, Shatkarma, Relaxation, Sankalpa and Meditation. Pranyayama are breath exercises that restore a sense of calm and control and reconnect our conscious and unconscious selves. Asanas are physical poses that address physical symptoms of grief. Shatkarma are yogic cleansing techniques releasing suppressed emotions, thoughts, or memories. Relaxation practices, including Shavasana, reduce stress levels. Sankalpa resets the mind so the body can manifest your deepest inner wishes. Breath Meditation offers the calm stillness of body and mind that allows the Spirit to emerge more clearly.
A key aspect of the concept of Sadhana is its high level of flexibility. Just as every healing process is unique, every Sadhana can be adapted and reshaped as needed. As Antonio describes the process in his book:
"Lynn Prashant affirms that 'we don't just get over our losses, we transform our relationship to them,' and I agree with her one hundred percent. There is a natural progression from one to the other: if we are able to transform our relationship to grief in a way that results in improved self-knowledge, then we can establish a new identity. We identify ourselves through the persons and things we are attached to; when we lose them, we lose part of who we are. Yet we continue being, only in a way that is not known to us. The process of finding our new self is multi-layered. It involves understanding and dealing with the physical symptoms of grief; actually completing the grieving process; and reidentifying our selves, not based on preconceived or relearned notions but instead on our true essence, the one we've come so much closer to thanks to having been stripped of our previous identity."
Yoga for Grief Relief: Simple Practices for Transforming Your Grieving Mind and Body, by Antonio Sausys embodies the kind of evidence-based and compassionate yoga therapy philosophy we at IHYT are excited about sharing. For Integrated Health Yoga Therapy workshops featuring Antonio Sausys, please consult our calendar at http://www.ihyt.org/#!calendar/c1ke7.
About Integrated Health Yoga Therapy
IHYT is a yoga therapy school for a wide range of health professionals whose practices might benefit from the skill-sets and philosophy underlying therapeutic yoga. Yoga therapy is becoming more and more recognized and utilized by the medical-scientific community as a safe and effective complementary therapy and treatment in a wide range of conditions. IHYT offers a carefully selected curriculum of evidence-based educational programs taught by faculty who are leaders in their respective fields, as outlined on our website at http://www.ihyt.org/.