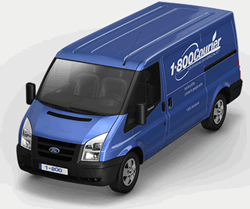 Atlanta, GA (PRWEB) January 24, 2014
1-800 Courier, a recognized leader in same-day delivery, distribution and transportation services, announces scheduled pallet same-day delivery services. This is in an effort to inform clients of its service options for daily pallet deliveries, expand its customer base, and increase sales growth. 1-800 Courier is a courier company that pursues to be the best choice in courier and same-day logistic solutions nationwide.
Scheduled pallet same-day delivery services are available for customers that have palletized boxes, motors, clothing, and more, that require routine transporting. Whether daily, twice per day or once per week, 1-800 Courier is capable of meeting all of their same-day delivery needs. Pallets can be delivered by 1-800 Courier from company location to location, location to end user, or both.
This type of pallet delivery service is especially convenient locally within cities. Customers can partner with 1-800 Courier for these types of daily operational deliveries, especially relative to routing services. 1-800 Courier is able to provide quick implementation of transporting pallets, helping its customers experience immediate benefits from utilizing a same-day courier for frequent pallet deliveries, instead of their own fleet.
Scheduled deliveries are not the only service 1-800 Courier can provide. Customers with a scheduled service solution can request on-demand pick ups as well, which can simply be placed via phone or online. The Memphis Courier is available 24/7 to answer any customer questions regarding scheduled pallet deliveries or make any scheduled service adjustments.
1-800 Courier is a premier same-day courier offering transportation and distribution services nationwide. From small packages to palletized freight, 1-800 Courier delivers fast. As a leader in the courier industry, the company goal is to create optimal courier logistic solutions and provide superior customer service every time. The courier provides same-day delivery successfully for over 1,500 clients, including Fortune 500 companies throughout the US.