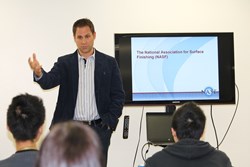 Washington D.C. (PRWEB) January 31, 2014
The National Association for Surface Finishing (NASF) announced this week the launch of its 13th Annual Bright Design Challenge with Master of Fine Arts Transportation Design students from the College for Creative Studies (CCS) in Detroit, Michigan.
This competition will require CCS design students to explore innovative ways to incorporate bright finishes as a premium design element related to SUV's and the Chrysler brand image, a brand that gave new meaning to Urban Luxury with its Chrysler 300 luxury sedan.
"CCS greatly values our long-standing partnership with NASF and Chrysler. Over the years, both industry leaders have provided opportunities for undergraduate students to apply their talents to exciting design projects," said Alexander Klatt, MFA Chair of Transportation Design. "This semester, however, they have combined efforts to engage with the MFA Transportation Design faculty in CCS Graduate Studies where they will challenge the MFA students to create a new 'luxury SUV brand concept' for Chrysler through the application of premium materials. The classroom will simulate the immersive experience of working in a professional studio with feedback and evaluation from NASF and Chrysler."
Design students will study ways to re-establish the Chrysler 300 as a luxury-SUV, differentiated from its American counterparts as well as European and Asian luxury brand. Participants will be required to work within strict, realistic guidelines. Time management skills will play a role due to critical deadlines placed throughout the intense, 12-week competition. Final designs will be chosen by a select panel of industry leaders in late April of this year. Contest awards will then be applied directly to the winning students' tuition.
"The future of surface finishing depends on the innovative ideas of our youth," stated NASF Board President, Rick Delawder. "The NASF strongly believes that it is the responsibility of those currently serving this industry to foster and nourish these ideas," stated, Delawder. This program is produced as part of the association's Surface Technology Initiative to proactively promote the surface finishing industry.
About the NASF
Located in Washington DC, the National Association for Surface Finishing represents the interest of businesses, technologists, and professionals in the surface coatings industry, an industry that represents over 250,000 employees nation-wide. Its highly regarded programs and activities are powered by NASF's mission to advance an environmentally and economically sustainable future for the finishing industry and promote the vital role of surface technology in the global manufacturing value chain. For more information on NASF, visit nasf.org or contact Phil Assante, Director of Member Relations at 703.887.7235.
About College for Creative Studies (CCS)
Located in the heart of Detroit, the College for Creative Studies (CCS) educates artists and designers to be leaders in creative professions. A private, fully accredited college, CCS enrolls more than 1,400 students pursuing Bachelor of Fine Arts (BFA) and Master of Fine Arts (MFA) degrees.
Students in the BFA program can major in Advertising Design, Advertising: Copywriting, Crafts, Entertainment Arts, Fine Arts, Graphic Design, Illustration, Interior Design, Photography, Product Design and Transportation Design, in addition to a dual major Art Education program. Students in the MFA program can major in Interdisciplinary Design and Transportation Design. The college also offers non-credit courses in the visual arts through its Continuing Education programs and opportunities for youth through its Community Arts Partnerships programs.