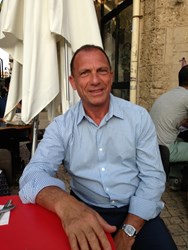 "Israelis are seeking surrogacy in Thailand and other third world countries to save money but this is becoming a larger and larger risk, " Lavy says. "Because of this we are doing our best to make the process as affordable as possible so that people won't
Stamford, CT (PRWEB) January 24, 2014
New England Fertility's founder Gad Lavy, MD will visit Israel in February to reach out to singles and couples eager to start or grow their family via surrogacy and IVF (in vitro fertilization).
Lavy, who grew up in Israel and attended medical school in Tel Aviv, leads New England Fertility's mission to help people around the world realize their dream of parenthood. Many of the patients from Israel are gay men and single women. But because of limitations around egg donation and surrogacy in Israel, heterosexual couples are showing more interest in seeking treatment in the United States.
Lavy and Melissa Brisman, Esq, the founder of Reproductive Possibilities, a large surrogacy agency based in New Jersey, will be meeting privately with people interested in learning more about surrogacy in the United States. The pair will also host a luncheon in Tel Aviv and expect over 100 people.
Israelis are going abroad to start their families via surrogacy at an increasing rate. While the United States, and New England Fertility in particular, has been a popular destination for those seeking treatment, many in Israel have travelled to Thailand in recent months.
But now scores of babies are in legal limbo, trapped in the Thailand and unable to come home, according to The Jerusalem Post on January 22. Israel's foreign ministry warned citizens to stop seeking services in Thailand because of Thai law. The Israeli government says it will no longer assist frustrated parents starting next autumn when their Thai born newborns have difficulty leaving the country, according to a statement published Times Of Israel.
"The State of Israel will not be able to continue to assist parents to children born in Thailand through surrogacy beginning on November 30, 2014, and reiterates its warning to Israelis not to seek surrogacy services in Thailand due to authorities' stance in this country," the foreign ministry statement read on IsraelNationNew.com
New England Fertility has launched a new package --- The East Coast Surrogacy Solution --- that will help Israeli patients save money. The package can potentially save patients in excess of $20,000.
"Israelis are seeking surrogacy in Thailand and other third world countries to save money but this is becoming a larger and larger risk, " Lavy says. "Because of this we are doing our best to make the process as affordable as possible so that people won't feel the pressure to take these risks."