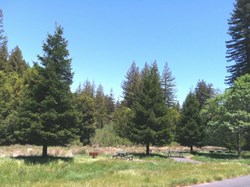 Boulder Creek, CA (PRWEB) January 24, 2014
The small town of Boulder Creek in the Santa Cruz Mountains is home of the oldest and Newest California State Park Big Basin and Little Basin.
One hundred and fifty years ago on June 30, 1864 Abraham Lincoln signed a bill to protect Yosemite Valley and the Mariposa Grove on In this bill it was stated the land was "'upon the express condition that the premises shall be held for public use, resort, and recreation, and shall be inalienable for all time." This bill created America's first state park and made way for Yosemite to be addition to the National Park system in 1916.
In 1902, Big Basin Redwood State Park was added to this system as the first official California State Park. Big Basin located in the Santa Cruz Mountains is home to 18,000 acres of old growth redwood forest has over 80 miles of hiking trails.
Since the creation of the Big Basin Redwood States Park, over 279 other parks have been added to the system. The State Park system contains more than 1.4 million acres of California Land. Including 280 miles of coastline, 625 miles of lake and river frontage, it contains over 15,000 campsites and 3,000 miles of hiking biking and equestrian trails.
In 2011, the last addition to the California state park system was Little Basin. Little Basin, once a retreat and campground for Hewlett Packard employees, is a 534-acre California State Parks campground that was recently added to Big Basin Redwoods State Park after its' purchase from the Peninsula Open Space Trust and Sempervirens Fund. Little Basin is run by the long established non-profit management organization United Camps, Conferences, and Retreats (UCCR).
Home of the Web Of Life Field School, an outdoor science school serving 2,800 students annually, Little Basin is open year round to campers and large group rentals.
To celebrate 150 years of land protection, check out the State Parks 150 Anniversary Website. To find out more about Little Basin, check out their website at http://www.LittleBasin.org.
ABOUT LITTLE BASIN
Little Basin - previously the private retreat for Hewlett Packard - is a new addition to Big Basin Redwoods State Park through a partnership with the Sempervirens Fund and Peninsula Open Space Trust.
The Web of Life Field (WOLF) School is an environmental education organization providing outdoor education experiences for students and teachers since 1989 at our Northern California campuses.