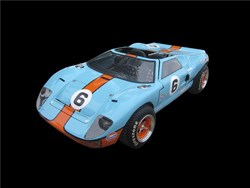 Tampa, FL (PRWEB) January 25, 2014
When Barry Clark and his wife, Kathy, put a half-scale Le Mans winning GT-40 race car up for auction, they hoped it would be worth $40,000 to a buyer.
The Clarks, who purchased the car in 2013 via the Barrett-Jackson collector car auction firm, decided they wanted to sell it and give the proceeds to the nonprofit Special Operations Warrior Foundation, which provides assistance to the families of American special operations troops who die in the line of duty.
Barry Clark had been looking for a way to make a substantial donation to the SOWF. As is the case with many donors to the foundation, his reason to contribute was personal.
"I became aware of the organization when a friend's son, a Special Operations officer, was killed in combat," says Barry, owner of Peachtree Construction in Ft. Worth, TX.
"After investigating, I discovered that a very high percentage of contributions reach the intended parties."
Created in 1980 to support the 17 children who lost a parent during the attempt to rescue the American hostages from Iran, the SOWF has three programs: college scholarships for children of fallen U.S. Special Operations personnel; cash grants to hospitalized spec ops warriors so their loved ones can get to their bedsides right away; and academic, grief and family counseling for surviving spouses and children.
The race car, pictured here, is a one-of-a-kind, hand built tribute car modeled after the Le Mans winning Fort GT-40, by McLaren Classic Restorations.
The buyer, who was aware the proceeds would be given to the SOWF, paid the Clarks $40,000 for the rare collectible.
"This generous donation by Barry and Kathy Clark will cover two years of college for a child who lost their parent in service to our nation; or 12 financial grants to our severely-wounded special operations warriors," said retired Navy Vice Admiral and SEAL Joe Maguire, president and CEO of the Special Operations Warrior Foundation.