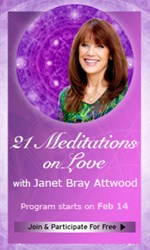 Mentors Channel looks forward to producing empowering, transformational programs with Janet Bray Attwood.
New York, NY (PRWEB) January 24, 2014
Mentors Channel and Janet Bray Attwood announce a new collaboration which will shortly launch 21 Meditations of Love, an online meditation program for relationship empowerment inspired by the title "I Want For You What You Want For You."
Janet Bray Attwood, best-selling author and transformational leader, is committed to teaching everyone to step up to their innate power. To this end, she co-founded the Transformational Leadership council, an organization whose purpose is to bring together leaders of personal and organizational transformation, so they can support each other in their contributions to the world.
With shared passion and purpose, Mentors Channel is pleased to welcome Janet Bray Atwood into their family of renowned authors and speakers.
Janet is co-author of "The Passion Test-The Effortless Path To Discovering Your Life Purpose", and "From Sad to Glad: 7 Steps to Facing Change with Love and Power". As an expert on what it takes to live a passionate life, she has presented her programs to hundreds of thousands of people around the world, through events with The Dalai Lama, Sir Richard Branson, T. Harv Eker, Jack Canfield, Lisa Nichols, Stephen Covey and Brendon Burchard, to name a few.
She is the creator and co-founder of The Passion Test Certification Program, which has more than 1400 Certified Facilitators in over 48 countries. With this enormous reach, The Passion Test has touched hundreds of thousands around the world.
Janet's influence stretches beyond borders, ethnicity or language. She is President of The World United, an organization in India whose sole purpose is to promote conscious, healthy and sustainable choices for a better world. For her ongoing work with the homeless and kids in lockdown detention centers, Janet received the highest award for service from the President of the United States, "The President's Volunteer Service Award".
Doron Libshtein, Mentors Channel CEO embraces this new partnership saying: "Mentors Channel looks forward to producing empowering, transformational programs with Janet Bray Attwood, and igniting the passion of millions, to live and share their highest good." Janet joins this enthusiasm concluding: "It is a great opportunity for my foundation to work with Mentors Channel. The company has proven its ability to make meditation and spiritual growth easily accessible to everyone and this is a great way for us to expand our message in the world."
About Mentors Channel
Mentors Channel is a resource of growth, empowerment and inspiration. Its vision is to bring personal growth to the masses with technology and an infrastructure that allows people to improve their well being anywhere, anytime and on any device. It is the place in which one can find the world's leading mentors ready to offer interactive guided coaching and meditation programs based on their teachings and on their worldwide bestselling books. Our mentors guide us towards great changes in life, changes we may have been dreaming of but were never sure how to obtain.