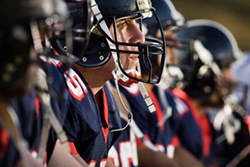 I feel like it will be close for most of the game, and then the Broncos will have the advantage.
Langhorne, PA (PRWEB) January 27, 2014
So many factors to consider when predicting the outcome of Super Bowl XLVII: Will the best offensive team this year manage to overcome the season's best defensive lineup? How will the freezing cold weather expected in New Jersey on February 2nd affect each team's chances? Can superstar quarterback Payton Manning accrue another Super Bowl victory and/or MVP title?
To answer these questions, you might rely on trends, statistics, and sports history. Or you might want to consult the collective intuition of over one hundred professional psychics at Psychic Source, the most respected psychic service since 1989.
Of the 104 psychics recently surveyed, 60% feel that the Broncos will take home the trophy, and 58% see Manning winning his second Super Bowl MVP title. Nearly all of the psychics foresee a close game, with the spread ranging from just 3 to a maximum of 14 points.
So what are these predictions based on? "I don't think I have ever watched a full football game in my life," admits psychic Agnes, who participated in the survey. "I'm relying on my psychic gifts to get the answers." Similarly, psychic Sofia says all her answers are based on intuition only, since she's "not a football fan and never watched a Super Bowl."
More specifically, psychic Mark elaborates that February 2nd, 2014, "according to Mayan energies" has the resonating colors of blue and gold, so "the Broncos have a color scheme closer than the Seahawks." In addition, Mark says, it's the Chinese Year of the Horse, "which favors the Broncos."
Nevertheless, despite the majority's psychic intuition favoring the Broncos, a not-insignificant 40% of the surveyed psychics would place their bets on the Seahawks. Psychic Karin Marie, who feels the Seahawks will win by 3-7 points, says that the "psychic energy" of the Seattle fans "will be a huge factor in the Super Bowl."
*****
About Psychic Source:
Founded in 1989, Psychic Source is the nation's oldest and most respected psychic service. Psychic Source's advisors are experts in astrology, horoscopes, numerology, tarot cards, clairvoyant readings, and many other psychic disciplines. Psychic Source believes in its community of authentic Psychics and stands behind the authentic psychic readings they deliver to clients. Visit them online at http://www.psychicsource.com.
For more information, contact:
Maryanne Fiedler, Marketing Director
maryanne(at)psychicsource(dot)com
215-953-8568