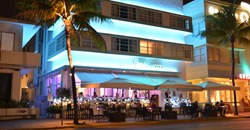 Penguin Hotel's Experience Package is ideal for the Miami Boat Show, South Beach Food & Wine Festival, the Miami Marathon and more.
South Beach, Florida (PRWEB) January 29, 2014
The historic Penguin Hotel, nestled in the heart of South Beach's famed Art Deco district, is offering a special Experience Package that invites guests to explore Miami Beach on bike and foot. Ideal for busy events including the Miami Boat Show (February 13-17), South Beach Food & Wine Festival (February 20-23) and the Miami Marathon (February 2), the Experience Package includes credits for DecoBikes, a South Beach-based bike sharing and rental program; a Deco Tour led by local historians and architects; and complimentary brunch at the Purple Penguin Cafe. The two-night Experience package starts at $599 during the South Beach Food & Wine Festival and $699 during the Miami Boat Show. Rates are based on double occupancy in a standard room and taxes are additional. To book Penguin Hotel's Experience Package, call the hotel at 800-235-3296.
"South Beach is best discovered on foot or by bicycle," states Markus Friedli, owner of The Penguin Hotel, "With all the galleries, shops, historic buildings, restaurants and even people-watching, it is best to be able to stop at a moments notice and take your time to experience the best of South Beach."
The Penguin Hotel Experience Package offers two nights in a standard room; two DecoBike credits for a day; two tickets to a Deco Tour, a 90-minute tour of the historic Art Deco district led by the Miami Design Preservation League (http://www.mdpl.org); two cocktails per night; and brunch for two at the Penguin Hotel. For more information or to book the package, call (305) 534-9334 or visit PenguinHotel.com.
The Penguin Hotel, an art deco boutique hotel built in 1948, is located directly on the world-famous and always fabulous Ocean Drive. The three-story hotel offers 43 rooms, eight with direct ocean views, flat screen TV's, WIFI and an option to have the canvas wall artwork customized to send a message to your group, sweetheart or even promote an event. The Purple Penguin Cafe offers breakfast, lunch, dinner and the ideal location for people watching and enjoying the ocean breezes. Happy Hour, 4pm until 8pm daily, offers two-for-one drinks and drinks specials. The hotel was renovated in 2006 and in 2014, the lobby and hallways were revamped with new lighting and décor and all rooms now feature new pillow top mattresses. For more information visit http://penguinhotel.com/ or call 800-235-3296.