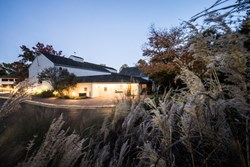 Vienna, VA (PRWEB) January 23, 2014
Joshua Redman Quartet
Sunday, February 9, 2014 at 8 pm
$42-$45
One of modern jazz's most heralded saxophonists, Joshua Redman began playing when he was 10 and won the Thelonious Monk International Saxophone Competition when he was in his early 20s. In 2013 Redman released Walking Shadows, his most "sublimely lyrical" album yet (The New York Times). Redman has been nominated for two Grammy Awards and has garnered top honors in critics and readers polls of DownBeat, Jazz Times, The Village Voice, and Rolling Stone. The quartet includes three internationally acclaimed musicians: jazz pianist Aaron Goldberg, who Wynton Marsalis describes as "a modern improviser of great clarity, finesse, and dexterity," bassist Reuben Rogers, who is renowned for his expressive abilities, and percussionist Gregory Hutchinson who was lauded by Jazz Magazine as "the drummer of his generation."
Video: Joshua Redman Quartet
1964 The Tribute
Tuesday, February 11, 2014 at 8 pm
$38-$42
Salute the 50th anniversary of The Fab Four's first live U.S. performance in D.C. with some "Rock and Roll Music" from the "Best Beatles Tribute on Earth" (Rolling Stone). Relive this milestone show with these master recreators who mimic the onstage banter, instruments, and fashion of the original British rockers. Hear Beatles' songs from the pre-Sgt. Pepper era, such as "I Want to Hold Your Hand," "Eleanor Rigby," and "Drive My Car." The Tribute headlines more than 120 shows around the globe each year, including numerous television appearances including Fox News and The Early Show on CBS. The band includes Mark Benson (John Lennon), Mac Ruffing (Paul McCartney), Tom Work (George Harrison), and Bobby Potter (Ringo Starr). "1964 creates the magic of The Beatles."—Dick Clark
Video: 1964 The Tribute –"In My Life"
Buckwheat Zydeco
General Admission
Thursday, February 13, 2014 at 8 pm
$28
Louisiana-born Stanley "Buckwheat" Dural first began playing funk music in 1971 with his 15-piece band, Buckwheat and the Hitchhikers. In 1976 he was brought on tour as an organist with zydeco king Clifton Chenier, who taught Dural accordion and inspired his shift to zydeco music. Since its formation in 1979 Buckwheat Zydeco has performed with legendary artists such as Eric Clapton, has performed at prestigious events including both of President Clinton's inaugurations, and has been featured in numerous film soundtracks including The Waterboy and The Big Easy. "Stanley 'Buckwheat' Dural leads one of the best bands in America. Buckwheat's band released the Grammy-winning album Lay Your Burden Down in 2009, which features Trombone Shorty and Sonny Landreth. A down-home and high powered celebration, meaty and muscular with a fine-tuned sense of dynamics."—The New York Times
Video: Buckwheat Zydeco – "Hey Ma Petit Fille"
Chaise Lounge
Love and Kisses, Swings and Misses
A Valentine's Day Celebration
Friday, February 14, 2014 at 8 pm
$25
D.C.-based Chaise Lounge is known for its smooth '60s-inspired big-band jazz with a "sound that is musically tight and always swinging" (Fanfare Magazine). The group's 2013 album Dot Dot Dot showcases singer Marilyn Older's "perennially slinky, sultry, sexy near-babydoll voice beside five highly talented and letter perfect instrumentalists." Chaise Lounge has collaborated with the McLean Orchestra, the Smithsonian Jazz Masterworks Orchestra, Capital City Symphony, and hard rock/punk band Adam West. Outside the band, Older has contributed songs to several independent films, and Barnett has composed scores for more than 400 TV and theatrical films including music for National Geographic and The Discovery Channel.
Video: Chaise Lounge – "The Coolest Car I Ever Saw"
John Eaton
The Fabulous Forties
Saturday, February 15, 2014 at 7:30 pm
$25-$27
This renowned jazz pianist showcases a reverent and inventive take on the Great American Songbook. In his salute to the music of the 1940s, Eaton promises to infuse his signature style in the legendary songs of that era, including hits from some of its most prolific big band and jazz musicians including Nat King Cole, Duke Ellington, and Glenn Miller.
Video: John Eaton Talks with Wolf Trap
Tickets can be purchased by calling 1.877.WOLFTRAP, or online at wolftrap.org.
For more information, call The Barns at Wolf Trap at 703.938.2404 or our general information line at 703.255.1900.
High-resolution images of the artists listed are available on Wolf Trap's website: wolftrap.org/Media_and_Newsroom/Photos_for_Publication.aspx.
###