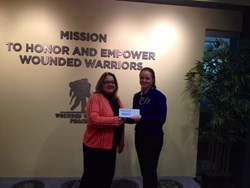 Pittsburgh, PA (PRWEB) January 25, 2014
AIReS encourages our employees to give back to the community, through company-sponsored initiatives, office benefit drives, and individual volunteer opportunities. Each holiday season, our dedicated staff members continue to inspire us in the ways they give back. Here are some highlights:
Each year our company supports several charities. This year, donations on behalf of our valued clients were made to The Mario Lemieux Foundation, The Cystic Fibrosis Foundation in memory of Mike Tufo, and the Wounded Warrior Project.
The Mario Lemieux Foundation was created in 1993 by hockey legend Mario Lemieux, who was diagnosed with Hodgkin's disease that year. After a successful battle, Mario is now cancer free and devotes much of his time to the Foundation raising funds to help reach the ultimate goal: a cure for cancer. The main objective of the Mario Lemieux Foundation is to fund promising research projects being conducted in the field.
The Cystic Fibrosis Foundation is the world's leader in the search for a cure for cystic fibrosis, funding more CF research than any other organization; in fact, nearly every CF drug available today was made possible because of the foundation's support. The nonprofit donor-supported organization is dedicated to attacking cystic fibrosis from every angle. Their focus is to support the development of new drugs to fight the disease, improve the quality of life for those with CF, and ultimately to find a cure. The Foundation's drug development model has been recognized by Harvard Business School and by publications such as Forbes, The New Yorker, and Bloomberg Businessweek. Based in Bethesda, MD, the Foundation funds and accredits a national care center network that has been recognized by the National Institutes of Health as a model of care for a chronic disease.
Wounded Warrior Project began when several veterans and friends, moved by stories of the first wounded service members returning home from Afghanistan and Iraq, took action to help others in need. What started as a program to provide comfort items to wounded service members has grown into a complete rehabilitative effort to assist warriors as they recover and transition back to civilian life. Tens of thousands of Wounded Warriors and caregivers receive support each year through WWP programs designed to nurture the mind and body, and encourage economic empowerment and engagement.
Our Corporate and Central Regional Offices participated in their 19th annual drive for the Greater Pittsburgh Community Food Bank. The Greater Pittsburgh Community Food Bank collects and distributes food through a 380+ member network in 11 counties in southwestern Pennsylvania. Through food solicitation, fund raising, special events, and community partnerships, the Food Bank gathers food at a 94,000 square foot warehouse in Duquesne, PA. Through outlets such as soup kitchens, food pantries, shelters, after school programs, senior high rises, MH-MR drop-in centers, neighborhood food assistance agencies, emergency or disaster-related feeding sites, regional food banks, Meals on Wheels, community centers, and special programs, the Food Bank currently distributes around 27 million pounds of food per year. This year, the staff members in Pittsburgh donated over 800 lbs of food and dry goods, enough to feed 90 families for the holiday season.
AIReS' North East Regional Office held internal fundraisers for both Dorothy Day, a local shelter in Danbury, CT, and for the Danbury Animal Welfare Society. Dorothy Day Hospitality House serves 80-120 hot meals each afternoon and provides shelter to 16 people each night. Everyone who comes to the door is welcomed as a guest -- with no questions asked. All work at Dorothy House is done by volunteers -- there is no paid staff. Dorothy Day Hospitality House is based on the Houses of Hospitality founded by Dorothy Day during the Great Depression.
Danbury Animal Welfare Society, Inc.—or DAWS— is a non-profit organization dedicated to improving the lives of animals in our community and beyond. DAWS promotes responsible pet guardianship and the humane treatment of animals, and works toward ending animal overpopulation through education and a variety of programs. DAWS takes pride in working to keep homeless pets safe, happy, and sheltered.
The team at AIReS' West Coast Regional Office joined with Operation Christmas Child, where staff members were able to fill decorative shoe boxes with gifts for children. The team also volunteered at the local California processing center to make sure boxes were packed and distributed in time for the holidays. Together with the help of more than 100,000 dedicated volunteers in the U.S., Operation Christmas Child is able to share the love and the joy of Christmas with millions of boys and girls.