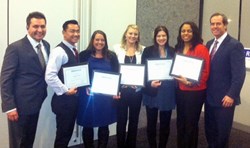 Chicago, IL (PRWEB) January 23, 2014
Last night at their annual Kick Off Meeting, Advanced Resources announced the newest members of their President's Club, a distinction that recognizes Advanced's most successful teammates based on a ranking of annual production. Advanced Resources is Chicagoland's top award-winning staffing agency and talent solutions provider.
The new members of the President's Club include: Lucas Boyer, Betsy Linhart, Giovanna Losacco, Tiffany Hill-Moore, Pam Schieber, and Roger Trinh. These distinguished performers represent the Office, Finance, and Healthcare divisions of Advanced Resources and they include recruiters, staffing consultants, and business development executives from Advanced's four office locations.
"One of the keys to Advanced's 25 years of success is consistently recruiting team members who embody our values, maintain the highest standards within our industry, and embrace our focus on experience excellence," said Rich Diaz, President of Advanced Resources. "Lucas, Betsy, Giovanna, Tiffany, Pam and Roger are among the most respected professionals in our industry and they are trusted partners to the clients and candidates they serve. Being named to President's Club solidifies their commitment to exceptional service and results, and we are proud to honor their contributions."
As a best-in-class employer, Advanced Resources knows the importance of meaningful recognition for its top performers. The President's Club was established in 2012 as part of Advanced Resources' !MPACT Rewards program, which recognizes top producers in sales, recruiting, and staffing throughout the year. President's Club members will enjoy a company-sponsored reward trip to San Juan, Puerto Rico later this winter.
ABOUT ADVANCED RESOURCES
Advanced Resources provides temporary staffing, direct hire placement, and workforce business solutions for Human Resources, Technology/IT, Finance/Accounting, Healthcare, and Office Support talent. With 25 years of experience and 4 locations (Chicago, Northbrook, Downers Grove, and Schaumburg), Advanced Resources is Chicagoland's top award-winning staffing agency. Advanced Resources was named in April 2013 as one of the "Best Places to Work in Illinois." The Chicago Tribune has named Advanced Resources as one of Chicago's "Top 100 Workplaces" in 2010, 2011, 2012, and 2013, and the Inavero Institute named Advanced a "Best of Staffing" company for the fourth consecutive year in 2013. Advanced Resources was also recognized locally and nationally as one of the "Best and Brightest Companies to Work For" in 2012 & 2013. To learn more, visit http://www.advancedresources.com.