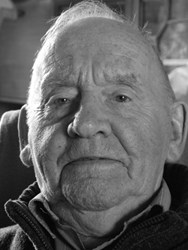 Blackburn, Lancashire (PRWEB UK) 24 January 2014
Taking a light-hearted look at life, Bill Austin, from Shadsworth, will be reading excerpts from his book to children from Shadsworth and Sacred Heart Primary Schools.
The Mayor of Blackburn Cllr Salim Mulla will also attend the event to offer his congratulations on Tuesday, January 28 at 2pm.
Members of the public are also invited to come along and meet Bill and preview the book.
Bill was able to realise his dream of becoming a published poet after kind-hearted neighbour Amanda Chinery called on him during the bad weather last Christmas.
After taking him a winter pack and hot water bottle, the 90-year-old revealed to Amanda that he had a passion for poetry. But due to his arthritis he was struggling to type up his work. So, in stepped Amanda who offered to help and approached publishers Rethink Press.
And now, the book, entitled: 'If You Don't Like Poetry Read This' is on sale via the popular website Amazon and will also be on sale at Blackburn Library following the launch.
Amanda said: "I'm really proud to be part of it. I think it's important that people take time out to check on their neighbours, especially their older neighbours."
The Council's 'Your Call' Campaign encourages residents to offer a helping hand to vulnerable and elderly neighbours.
Council Leader Kate Hollern said: "This is a perfect example of Your Call in action. I am really pleased to hear stories like this and would personally like to thank Amanda and people like her who go the extra mile to help others."
Bill's poetry is a reflection of his eccentric character, and with titles in the book like: Cheer Up, Poor Pensioner and Stew-Pid, it's easy to see why.
He said: "My poetry doesn't necessarily have a theme; it is just a collection of my thoughts put into poetry. I wake up each morning at 6am and over breakfast every day I write two pieces – one usually ends up in the bin and the other I keep."
Bill and Amanda have remained good friends, with Amanda regularly calling in to see Bill. The great-grandfather added: "I wrote a letter thanking Amanda for taking the time out to come and check on me. There's not many people left like Amanda and I think it deserves recognising."
The Radio engineer, originally from Lancaster, worked for the Canadian treasury in accounts before training to be a school teacher. He was a specialist in high speed Morse messages from the German command.
Bill added: "My motto in life is never to worry. Even my electric bill makes me celebrate!"
"If You Don't Like Poetry, Read This" by Bill Austin is available from Amazon or by visiting Blackburn Library.
---
NOTES
For information on the launch please contact:
Charlotte Bradshaw
Senior Corporate Communications Officer
Blackburn with Darwen Council
Direct line: (01254) 585409