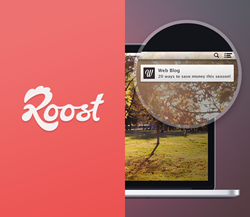 Toledo, OH (PRWEB) January 24, 2014
Roost, which provides push notifications for websites, fully supports Safari Push Notifications (Mavericks desktop push) with its Wordpress plugin. Roost Web Push allows websites to enable push notifications within Mavericks OS X and plans to support Chrome in the coming months.
Roost's Safari push notification Wordpress solution is available at http://wordpress.org/plugins/roost-for-bloggers/.
Version 2.0 is revised to more specifically support desktop push notifications for Safari.
Roost Web Push comes equipped with an analytics dashboard that measures user engagement across a variety of metrics.
Roost CTO Casey Haakenson said, "With the advent of Safari push notifications, we've seen an incredibly positive response to desktop push. We have no doubt that web push will become a commonplace communication channel in the coming months. Roost wants to make desktop push notifications as easy to integrate as possible, while providing a good utility and the best possible experience to end-users."
Roost's desktop push notification services are being used by websites across Europe and America.
For more information about Roost (@roost_me), please contact Tim Varner, co-founder, at tim.varner(at)roost(dot)me or visit Roost.me (http://www.roost.me).