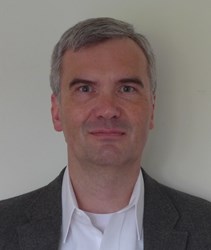 Richard is an extremely capable leader who understands the country's infrastructure-related needs and opportunities and how to find the right solutions for clients. - Rex Bell
Broomfield, Colorado (PRWEB) January 23, 2014
MWH Global, the wet infrastructure sector leader and provider of strategic consulting, technical engineering and construction services, has hired Richard Dixon as the country manager for its office and operations in Chile. In his new role, Richard will be responsible for managing all MWH services and work in the country. He will be based in MWH's office in Santiago, Chile.
"Richard's technical knowledge and experience allows MWH to continue to offer industry leading, cost-conscious design solutions to clients in Chile and elsewhere in Latin America," said Rex Bell, director of operations of the Energy & Industry sector of MWH. "Richard is an extremely capable leader who understands the country's infrastructure-related needs and opportunities and how to find the right solutions for clients. He is a great addition to our team of multidisciplinary water management experts."
An accomplished leader in the mineral processing, water treatment and chemical process markets, Richard has 23 years of experience working for well-known international engineering and chemical companies. He has been responsible for business operations for a number of countries, including Argentina, Brazil, Chile, Colombia, Peru, Panama and Mexico. Richard comes to MWH from Xylem and will be based in Santiago.
The office in Chile, which opened in 2001, has a team of 120 engineers and consultants serving clients in the mining, hydropower, and industrial industries. Richard will help support the growth and development of key services including mine water supply, tailings, water treatment, diversion power plants and environmental impact studies.
The Chile office is one of four offices that MWH operates in Latin America to support the region's growing and diverse infrastructure needs.
Richard holds a Ph.D. in Chemistry from the University of California, Berkeley; an MBA from Adolfo Ibáñez Business School, Santiago; and a B.S. in Chemistry from the Universidad de Chile, Santiago.
About MWH Global
MWH Global is a strategic consulting, technical engineering, environmental and construction services firm leading the wet infrastructure sector. Offering a full range of services and innovative, award-winning solutions beginning in the initial planning phases through construction and asset management, we partner with our clients in multiple industries to implement projects and programs that focus on water, energy, natural resources and infrastructure. Our nearly 8,000 employees in 35 countries spanning six continents are dedicated to fulfilling our purpose of Building a Better World, which reflects our commitment to sustainable development. MWH is a private, employee-owned firm with a rich legacy beginning in 1820. For more information, visit our website at http://www.mwhglobal.com or connect with us on Twitter and Facebook.
Mensaje disponible en espanol.