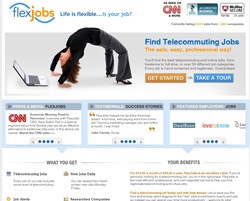 Boulder, CO (PRWEB) January 27, 2014
An analysis of keyword searches run by job seekers in 2013 has revealed the 10 most in-demand flexible jobs. According to data from the FlexJobs job search website, the positions job seekers searched for the most over the course of the year include:
1. Nursing
2. Data Entry
3. Marketing
4. Writer
5. Java Developer
6. Editor
7. Project Manager
8. Sales
9. Accounting
10. Customer Service
The most popular job search terms were compiled with data from job seeker keyword queries run between January 1 and December 31, 2013 on FlexJobs.com. FlexJobs' Chief Technology Officer, Peter Handsman, analyzed data from keyword searches to determine the types of jobs most in-demand by job seekers looking for flexible and telecommuting positions.
According to the Flexible Job Index (FJI), a monthly tracking index of flexible job trends, these results are in line with the industries that tend to offer the most available positions. Some of the leading fields that hire for flexible work include Medical & Health, Web Development, Sales, Account Management, Writing, and Education.
"When job-seekers come to FlexJobs, they have over 50 career fields to search from," says Sara Sutton Fell, founder and CEO of FlexJobs. "It's interesting to see that the positions job-seekers are searching for are also generally compatible with the types of flexible positions that are the most abundant."
Typical job titles within these categories include Registered Nurse, Customer Service, Data Entry, Marketing Director, Copywriter, Programmer, Director of Operations, and more. The types of flexible work arrangements offered by these jobs ranges from telecommute and remote options to part-time and freelance positions.
Currently, the cities that have the most positions available in these fields are New York, NY; Chicago, IL; San Francisco, CA; Philadelphia, PA; Denver, CO; Cleveland, OH; and Providence, RI.
"With advances in technology and the way we communicate, it is becoming much easier for all different types of industries to offer flexible work arrangements such as telecommuting options," added Fell. "The days when people worked exclusively from their desk in an office setting are already a thing of the past, as most professionals check email, make calls, and access documents from mobile devices or personal computers."
A few other industries that are offered on FlexJobs includes human resources, real estate, nonprofit, education, engineering, administrative, transcription, and more. For a complete list of industries and jobs offered, visit http://www.flexjobs.com.
The availability of flexible work options is on the rise, according to new data from FlexJobs. Over the past year, job listings for professional telecommuting, part-time, freelance, and flexible schedule jobs increased by 25 percent, giving job seekers more opportunity to find a more flexible job.
For more information on the most searched for jobs, visit:
http://www.flexjobs.com/blog/post/10-most-popular-flexible-jobs-according-job-seekers
About FlexJobs
FlexJobs is the leading online service for professionals seeking telecommuting, flexible schedule, part-time, and freelance jobs. With job listings in over 50 career categories and opportunities ranging from entry-level to executive, freelance to full-time, FlexJobs offers job seekers a safe, easy, and efficient way to find professional and legitimate flexible job listings. Having helped over a half million people in their job searches, FlexJobs has been featured on CNN, the Wall Street Journal, Forbes, and Good Morning America, among hundreds of other trusted media outlets and is a proud partner in the 1 Million for Work Flexibility initiative.