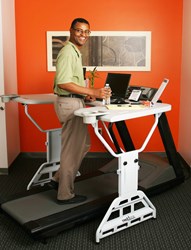 While many understand the health benefits of daily exercise very few recognize the health hazards of inactivity independent of exercise regimens.
Scottsdale, AZ (PRWEB) January 23, 2014
A new study published in the American Heart Association's journal 'Circulation' adds to the growing evidence linking time spent sitting during the day to increased heart failure risks in men. The researchers concluded that preventing heart failure requires a dual pronged approach: increased physical activity and decreased periods of sedentary behavior. Implementing these changes in an ever increasingly sedentary society is proving problematic. TrekDesk Treadmill Desk offers a unique solution to the challenge.
Though many studies in the past few years have pointed to the extreme health dangers caused by inactivity this was the first study examining the direct link between sedentary time and the risk of heart failure in men.
The eight year study followed the exercise and sedentary habits of a racially diverse group of 84,170 men aged 45 to 69 with no previous signs of heart failure. Exercise levels were measured in 'metabolic equivalent of task' (MET's) which depicts the body's use of energy and sedentary time was calculated in hours. Read the entire study here: http://circheartfailure.ahajournals.org/content/7/1/21.
Low levels of physical activity increased the risk of heart failure by 52%. Regardless of the amount of physical activity men engaged in those who sat for five hours or more daily increased their risk of heart failure 34%. This fact alone has significant importance to company wellness plans that offer gym memberships but then confine employees to sedentary environments.
The risk of heart failure was two fold for men sitting five hours or more per day and exercised minimally compared with men who exercised and limited sedentary time to less than two hours per day.
"While many understand the health benefits of daily exercise very few recognize the health hazards of inactivity independent of exercise regimens," stated Steve Bordley, CEO of TrekDesk Treadmill Desk. "Sitting increases the risk of a wide variety of diseases including those that are most threatening to the economic and physical health of Americans today: heart disease, stroke, diabetes and cancers. Implementing initiatives that encourage physical activity and limit sedentary time as much as possible would drastically cut the cost of health care, as well as boost productivity and quality of life in America."
Designed to fit any existing treadmill, TrekDesk treadmill desk is an affordable, full sized, height adjustable workstation that allows individuals the opportunity to gain the necessary amount of daily exercise to lose weight, maintain health, reduce stress, prevent disease, strengthen muscles, boost mood and productivity, without requiring additional time during the day or extra motivation.
Join the TrekDesk "Movement Revolution" to learn more, spread the gospel regarding movement, or win a free TrekDesk http://www.facebook.com/trekdesk, or follow TrekDesk on twitter http://www.twitter.com/trekdesk. TrekDesk treadmill desk is currently available for sale online at http://www.trekdesk.com.