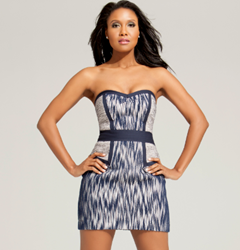 "Americans who are struggling to make ends meet should not have to sacrifice their nutrition when on a limited budget" -NiaNia
Washington, D.C. (PRWEB) February 04, 2014
With many Americans still rebuilding their financial standing as they recover from the recession—food budgets for many families have significantly been reduced. In fact, many American families are not only struggling financially, but are relying on programs such as SNAP (Supplemental Nutrition Assistance Program) to provide them with all of their food for the month. As a result of their limited food budgets, many families have abandoned the healthy food they prefer for less expensive foods that can be unhealthy.
When author NiaNia heard how difficult it was for one of her close friends, a single mother of 3 young children, not only to create nutritious meals on her monthly SNAP budget—but just to make her SNAP budget last for the month, she instantly realized this was a problem many American families are facing today.
"Americans who are struggling to make ends meet should not have to sacrifice their nutrition when on a limited budget. Eating healthy food is important for your body from the inside out—for your energy level, to increase immunity levels, to increase concentration and focus." Author NiaNia
In order to find a solution to help both her friend, and other Americans on limited budgets, NiaNia reached out to Chef Jerry Greenwood. Chef Jerry is a graduate of Johnson and Wales University, is a celebrity personal chef, and is the owner of West Hollywood eatery JCuisine—He is an advocate of the importance of nutritious healthy food.
As a result of their collaboration NiaNia and Chef Jerry Greenwood created a cookbook full of inexpensive, yet healthy food, called "Oh Snap! Recipes: How to make delicious meals for under $4.25 per day." The cookbook is full of menu selections for breakfast, lunch, dinner, snacks, healthy beverages, and desserts—all that cost between $1.25-$1.50 per person/per meal. There is even a section with holiday menu items, which cost a bit more, but are still affordable and healthy.
"By teaching individuals on SNAP how to select inexpensive and healthy ingredients, their financial burden becomes less of a worry—because they know there will not only be food on the table each day, but healthy food." NiaNia
In addition to their cookbook NiaNia has a website where she invites others to add their own healthy and SNAP budget friendly recipes http://ohsnaprecipes.com/. "Oh Snap! Recipes: How to make delicious meals for under $4.25 per day" is available for immediate download to your Kindle on Amazon (http://niaorms.com/ohsnapbook).