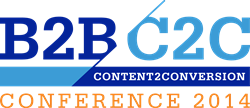 Hasbrouck Heights, NJ (PRWEB) January 23, 2014
Demand Gen Report (DGR) today announced dates for the third annual B2B Content2Conversion Conference, which will be held May 6-7, 2014 at the Pershing Square Signature Center in Manhattan. This educational event provides business marketers with strategies and tactics to compete in the rapidly expanding sector of content marketing. The targeted event has become a must-attend for marketing teams looking to improve the results of their inbound and outbound campaigns, and drive better engagement with their existing customers and prospects.
The event attracted over 300 registrants in 2013 and is expected to grow by more than 70% in 2014. Attendees at the event over the past two years have ranged from Fortune 100 brands to venture backed startups to agencies working on behalf of multiple B2B clients.
"When we launched this event two years ago, B2B marketers were just scratching the surface of content marketing," says Andrew Gaffney, Content Director of Demand Gen Report; President of G3 Communications. "Now research shows that 9 in 10 organizations market with content and it is a top priority in their budget."
Content is becoming a critical component of B2B strategies based in part of the changing buying behaviors of businesses. Recent research from Demand Gen Report shows that nearly two-thirds (64%) of respondents said the winning vendor's content had a significant impact on their buying decision; and 58% of buyers agreed with the statement that they spent more time researching purchases, compared to 48% in 2012.
As the size and scope of B2B Content2Conversion Conference continues to grow, the location shifts to the Pershing Square Signature Center, which has been described as "one of the most exciting additions to the New York cultural landscape," and provides 75,000 contiguous square feet of meeting space.
Also to accommodate the specific goals of attendees, the agenda will feature three tracks providing real-world case study examples, as well as actionable takeaways on how marketers can better target, engage and convert prospects into customers. They are:

The 8 sessions in this track will address the topics of building buyer profiles, message mapping, targeting, developing content across multiple formats and channels, as well as measuring the impact of your content.

Creating content is only the first part of the journey. This track features 8 sessions with some of the leading practitioners and thought leaders in demand generation addressing topics such as lead nurturing, targeting the stages of the lead to campaign optimization.

Lead generation and lead nurturing campaigns will help create opportunities, but content still plays a key role in helping your sales team close deals. This track presents experts in the space providing tips and insights with how to create messaging, tools and processes that will move more prospects to closed deals.
"Our goal is to have the conference evolve with the trend," Gaffney continues. "As the content marketing process becomes more specific to the buyer and seller relationship, we will strive to make the agenda tailored to the needs of attendees."
Hosted by Demand Gen Report, the B2B Content2Conversion Conference is an educational event focused on strategies for mapping, developing and utilizing content marketing to nurture the buyer relationship and enhance conversions. The event will be held May 6-7, 2014 in Manhattan at The Pershing Square Signature Center. Click here for more information or to register.
About Demand Gen Report
Demand Gen Report (DGR), a division of G3 Communications, is a targeted e-media publication spotlighting the strategies and solutions that help Business-2-Business (B2B) companies better align sales, marketing and disparate teams to support growth and drive revenue. DGR content and news coverage focuses on the sales and marketing automation tools that enable companies to better measure and manage multichannel demand generation efforts. Demand Gen Report is the only information source directly focused on this rapidly emerging business discipline.