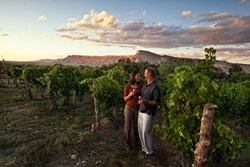 Here's our list of five extraordinary ways to unleash love, Grand Junction style.
Grand Junction, CO (PRWEB) January 27, 2014
The Grand Junction Visitor & Convention Bureau (GJVCB), the gateway to Colorado Wine Country, is a beautiful spot to fan the flames of romance, any time of year. Here are five extraordinary ways to unleash love, Grand Junction style.

Whether you have a taste for red, white or something in between, the two American Viticultural Areas (AVAs) in Colorado Wine Country has you covered. The area boasts 21 wineries, including the highest-altitude winery in the country. The wineries produce almost every type of wine, with focus on Merlot, Cabernet Sauvignon, Riesling, Syrah, Port, and Chardonnay – a true Burgundian-style wine. The wine trails are small and personal, with all tastings and winery tours being free. The owners of the wineries, along with the winemakers, usually are available to greet and talk with guests, adding to the intimate nature of the experience.
Chocolate and romance go hand-in-hand. Grand Junction's Enstrom Candies produces more than half a million pounds of its world famous, hand-crafted almond toffee each year, as well as many other fine confections. The retail shop, located in Grand Junction's charming downtown district, features a full-service coffee shop, espresso bar and gourmet ice cream.
Channeling the true romance of the Old West, with its wide open spaces and spectacular scenery, Grand Junction boasts beautiful views of the Colorado National Monument and the Grand Mesa. One of the best ways to experience these vistas is with a leisurely scenic drive snuggled up next to your sweetheart along the remarkable Rim Rock Drive or the gorgeous Grand Mesa National Scenic and Historic byway. Stop along the way to capture the picture-perfect moments with your partner.
Pack a picnic full of the Grand Valley's best produce, a box of Enstrom chocolates, and a bottle of local Grand Valley wine and head to the Grand Mesa, the world's largest flat-topped mountain, which is more than 40 miles wide and 10,000 feet tall. The mesa is teeming with aspen and spruce groves for snowshoeing in the winter and flowered meadows for hiking hand-in-hand in warmer weather. The 200-plus lakes offer a secluded spot to toast your love.
If the pressure to plan a romantic retreat is overwhelming, then leave it to the pros at some of Grand Junction finest hotels. Seven romance lodging packages range from roses, dinner for two, chocolates and Wine. Rates start at $69/night.
To learn more or to book a trip to Grand Junction, go to http://www.visitgrandjunction.com.
Grand Junction (http://www.visitgrandjunction.com)
Nestled near 11,000-foot Grand Mesa and the 7,500-foot Book Cliffs, Grand Junction is the largest city in western Colorado. At an altitude of 4,586 feet, warm summers and moderate spring, fall and winter seasons allow for year-round golfing, hiking and biking. Boasting more than 275 days of sunshine annually, Grand Junction has been named one of the eight sunniest cities in the United States by TourismReview.com. Among Grand Junction's spectacular red cliffs and winding canyons are the Grand Mesa, the world's largest flat-topped mountain, the Colorado National Monument, Bookcliff Wild Horse Area, two national scenic byways and five golf courses. Grand Junction lies in the heart of the Colorado-Utah Dinosaur Diamond. The area also is home to Colorado's wine country, with nearly 30 vineyards and wineries.