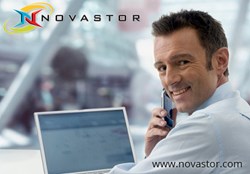 Having your solution properly installed and configured from day one, vastly improves the chances of recovering from a disaster down the road. This is why we're putting our own backup expertise to work for the customer.
Agoura Hills, California (PRWEB) January 28, 2014
NovaStor's line of backup and restore software has long been an affordable alternative solution in the world of data protection. But with the release of NovaBACKUP 15, NovaStor has addressed a question often asked by small to medium sized business owners who intend to protect critical data: "How will I setup a new backup solution?"
With the announcement of NovaBACKUP 15, NovaStor launched a new service called "Setup Assistance" as a major component in the "Backup for the Rest of Us" campaign. With the inclusion of both software installation and initial configuration, customers are never left alone to deliberate the best backup plan for their environment. An experienced NovaStor engineer is assigned to the account and made available at a time that is convenient for the customer. When purchasing any NovaBACKUP server product (Server, Business Essentials, NAS), customers are now prompted to select an appropriate time for their remote session without additional cost.
The new service includes:

Booking appointment at time of purchase
Access to local NovaStor technical team members
Product selection assistance – custom fit to the environment
Free remote installation and setup assistance (30 min)
Free product training and feature/benefit overview
Unlimited phone and email support during the first year
30 day money back guarantee – no questions
What's The Hold Up?
Recognizing that most small businesses wholeheartedly intend to protect critical data, NovaStor took a closer look at why so many businesses remain unprotected. A survey presented to a broad spectrum of industries revealed that the leading causes for the delay of data protection included:

Lack of time / Fear it will be time consuming
Lack of budget / Fear it will require upgrades
Lack of IT administrative resources / technical knowledge
Belief that they are protected by a different technology
Belief that other company issues are of a higher priority
Taking a cue from these responses, NovaStor realized that more could be done to bring down the barriers that businesses face when looking to implement a backup solution. While the NovaBACKUP product line addressed budgetary concerns by offering the most cost effective solution on the market, it was not addressing the apprehension that clients may have felt about installation or perceived setup difficulty. Putting the full weight of their technical support team behind the product, and hiring additional team members, NovaStor committed to the mission of providing every customer with the luxury of included installation and configuration with every server software purchase.
Taking on the Industries #1 Gripe
When looking at the household names in the backup arena and the forums and discussions behind the products, a single complaint arose more than any other. Poor support by inadequate staff, often outsourced, and responding with template answers. NovaStor's technical support teams, based in Agoura Hills, California and Hamburg, Germany – are staffed only by experienced NovaStor employees who are familiar with customer environments and are committed to helping customers. This differentiator alone was cited as one of the major reasons for sales growth in 2013.
More Options for Channel Partners
When rolling out this offering, special attention was paid to NovaStor's ValueCreate reseller partners. Rather than offering a competing service, NovaStor's aim was to create an increased level of flexibility by allowing channel partners to choose the method that best fits their unique business model.

Purchase NovaBACKUP with installation service for their client: Freeing up time, and providing a service which resellers can bill for.
Purchasing NovaBACKUP without installation service: Allowing the reseller to provide their own billable installation services.
"NovaStor is continually looking at ways we can improve the experience of implementing data protectio," says Mike Andrews, Managing Director at NovaStor.
"We've taken the position that having your solution properly installed and configured from day one, vastly improves the chances of recovering from a disaster down the road. This is why we're putting our own backup expertise to work for the customer."
By adding industry first services such as Setup Assistance, combined with the features and benefits included in NovaBACKUP 15, NovaStor' has experienced the most successful release in company history. Shipments and revenues have eclipsed NovaStor's previous record by over 25% and there are no signs of the momentum slowing down.
To become a NovaStor ValueCreate Channel Partner, visit http://www.novastor.com/partner.
About NovaStor
NovaStor (http://www.novastor.com) is a leading international provider of software solutions for data protection and availability. NovaStor provides software, SaaS solutions and services for both local and online backup, and the restore and retention of business-critical data. Clients include home, mobile, SMB, and service providers as well as international corporations. NovaStor's cost-effective solutions are platform- and hardware-independent and ensure that optimal technological and economical use is gained from the customer's existing and future IT environment. NovaStor is headquartered in Switzerland (Zug), has offices in the USA (CA, Agoura Hills) and (Hamburg) Germany, and is represented throughout numerous other countries.