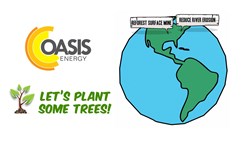 Planting trees does feel good and the simple act of planting a tree can make a real difference. We should be planting as many trees as possible. The more, the better.
Trenton, NJ (PRWEB) January 23, 2014
Oasis Energy launches their Plant A Tree reward program. Oasis Energy has partnered with Treecycler to reward all Oasis customers who sign up or renew their electricity or natural gas service with a Plant A Tree code, also known as a Treecycler code. The codes allow Oasis customers the ability to have a tree planted in their name, at one of dozens of reforestation projects around the globe.
What makes Oasis Energy's program unique is that the customer gets to decide where their tree is planted. The process is simple. After signing up for gas or electric service the customer is emailed a code that can be redeemed on Treecycler.com. Then, from the comfort of their homes, Oasis Energy customers can browse dozens of reforestation projects and decide where they want their tree to go. During the process the user can browse a map, and select from dozens of local, national and international reforestation sites.
Current local planting sites include projects in Maryland and Pennsylvania to reforest the mined land of Appalachia by reestablishing the hardwood forests that once dominated the landscape. The planting project in New Jersey will shade playgrounds, plant riparian buffers and reforest open lands. In New York, the site's goal is to re-leaf the state's tributary streams. Forests next to these streams maintain and enhance water quality, filter pollutants and reduce erosion and flooding, protect property and cool temperatures for habitat, fish and wildlife.
"The hardest part will be deciding where to have your tree planted, because there are so many worthwhile projects around the world to choose from", said Justin Snyder the National Brand Manager for Oasis Energy.
Each Oasis customer's tree is planted during the proper planting season for the selected location. Planting seasons vary around the world based on climate and tree type. Users who connect their Facebook account at the time they redeem their Treecycler code will be notified through facebook when their tree is planted.
Oasis Energy's plant a tree reward program isn't limited to customers who purchase 100% Renewable electricity plans. Every electricity and natural gas plan offered by the company will include a free Plant A Tree code.
"Originally, we had considered making our Plant A Tree promotion exclusive to customers who select one of our green energy plans. However, during the process we decided to give Plant A Tree codes to every Oasis Energy employee, and the feedback we got back from our staff was resoundingly positive. They loved it. Our staff planted their trees in a variety of places, and each person had their own reason for selecting a location. The consensus was, 'this feels really good'. We agreed. Planting trees does feel good and the simple act of planting a tree can make a real difference. We should be planting as many trees as possible. The more, the better. So we unanimously decided that all customers who sign up or renew service will get a free Plant A Tree code. We're really proud of this program." said Snyder.
Oasis Energy wants to know where customers have chosen to plant their tree and why they chose that location. Oasis is encouraging customers to share their story on company's social media accounts.
Twitter: https://twitter.com/OASISENERGYcom
Google+: https://plus.google.com/+OasisEnergy
Facebook: https://www.facebook.com/OASISENERGYcom
Pinterest: http://www.pinterest.com/oasisenergy/
Oasis Energy is committed to giving back to the local communities they serve by participating in community improvement projects, charity efforts, environmental awareness, and energy efficiency campaigns.
About Oasis Energy:
Oasis Energy is a leading supplier of electricity and natural gas to residential and commercial customers in New York, Pennsylvania, New Jersey, Maryland and Illinois. By offering competitive pricing on both traditional and renewable, fixed rate energy products, Oasis Energy has become a low-cost/high-value provider bringing energy cost savings to customers in every market they serve. Oasis Energy has a goal to make green energy financially accessible to everyone, and strives to offer the lowest rates on renewable electricity plans in the markets they serve.
For more information on Oasis Energy's electricity and natural gas service visit: https://www.oasisenergy.com