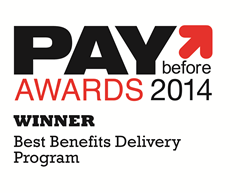 'With HSA On Demand, ConnectYourCare has eliminated the consumer's number one concern and raised the member experience of HSAs to a new level.' - ConnectYourCare CEO Jamie Spriggs
Hunt Valley, MD (PRWEB) January 23, 2014
Paybefore has selected ConnectYourCare's HSA On Demand with Healthcare Payment Card as a 2014 Paybefore Awards winner in the Best Benefits Delivery Program category. For eight years, Paybefore Awards has conferred the most prestigious recognition of excellence in the worldwide prepaid, mobile and emerging payments industry. The awards are presented annually by Paybefore, whose publications are the leading source of industry information for alternative payments executives.
"I am very proud of our team's latest innovation," said ConnectYourCare CEO Jamie Spriggs. "ConnectYourCare has a rich tradition of originating and advancing health accounts in the United States. With HSA On Demand, ConnectYourCare has eliminated the consumer's number one concern and raised the member experience of HSAs to a new level."
ConnectYourCare's HSA On Demand with Healthcare Payment Card was selected by a panel of five industry experts who served as judges for this year's competition, which—once again—included a record number of entries from around the world.
"An industry is only as good as its innovators. This year's Paybefore Awards have demonstrated that prepaid, emerging and mobile payments companies always find new ways to address consumer, government and business needs," said Loraine DeBonis, Paybefore editor-in-chief and chair of the judging panel. "We are proud to recognize ConnectYourCare's contributions to advancing the industry."
"The companies and programs recognized in the 2014 Paybefore Awards are great of examples of what can be accomplished when innovators apply thoughtfulness and payments technology to address real-world needs," added Marilyn Bochicchio, Paybefore's CEO.
With HSA On Demand, the employer no longer needs to seed all contributions up front to protect their employees from costly medical expenses before contributions are made, and gains significant ROI by deferring the employer contribution(s). When HSA On Demand is active, employees using ConnectYourCare's healthcare payment card can access funds from contributions previously made to the savings account plus any available "advance" funds immediately at the point of sale. The amount of advanced funds available is determined by the annual contributions a member elects during enrollment.
ConnectYourCare's HSA On Demand with Healthcare Payment Card now will vie for Best-in-Category distinction, which will be announced during the Paybefore Awards ceremony on March 4 at the All Payments Expo. For the second year, visitors to Paybefore.com will have a chance to vote on Best in Category. The outcome of this vote (counted as one-sixth of the total) will be combined with the five judges' picks to determine Best-in-Category honorees.
About ConnectYourCare
ConnectYourCare's consumer-directed healthcare platform provides a fast path to account-based health plans, enabling firms to lower health benefit costs while empowering consumers with the tools they need to better manage health savings. The solution of choice for large employers, health plans and banks, ConnectYourCare offers a fresh approach to health savings by combining a simplified experience, seamless access and a unique coaching model to accelerate savings and consumer engagement. By removing complexity and motivating individuals to take control of health savings, ConnectYourCare maximizes return on investment for all participants in the healthcare benefits value chain and enables everyone to simplify, save and grow.
About Paybefore
Paybefore is the leading information provider to prepaid, mobile and emerging payments industry professionals, offering the latest news, commentary and analysis. Paybefore's family of industry publications includes: Paybefore.com; Pay NewsTM; Pay GovTM; Pay WeekTM; Pay Op-EdTM; Pay MagazineTM, a biannual print publication featuring in-depth articles on the opportunities, challenges and trends in the global payments industry; and the only industry directory, Pay ConnectTM buyer's guide, available online and in print. Visit us at http://www.paybefore.com