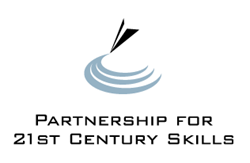 Just as the demands of today's workplace have evolved, so have the challenges of being an effective citizen in a rapidly changing world
Washington, DC (PRWEB) January 27, 2014
P21, the leading national organization advocating for 21st century readiness for every student, calls for a broader vision for 21st century citizenship that connects with learning for success in college, career, and citizenship.
Reimagining Citizenship for the 21st Century: A Call to Action for Policymakers and Educators, released by P21, was created in collaboration with the nation's leading civic learning groups, and with a grant from the William and Flora Hewlett Foundation. The report defines 21st century citizenship, provides examples of 21st century citizenship in action, and includes digital and global citizenship alongside more traditional civic learning in a 21st century context. The report also provides recommendations for national, state, local, and parent leaders to encourage access and support for programs that provide expanded learning opportunities for students. The Campaign for the Civic Mission of Schools, Education Commission of the States National Center for Learning and Engagement, National Council of the Social Studies, New Global Citizens, and World Savvy have signed on to P21's recommendations on 21st century citizenship.
"The release of Reimagining Citizenship is the first part of P21's 21st Century Citizenship initiative," said Liz Fogel, Chair of the P21 Citizenship Task Force, and Director of Education for The Walt Disney Company. "Just as the demands of today's workplace have evolved, so have the challenges of being an effective citizen in a rapidly changing world. P21 is excited to be working with our partners and members in developing resources to help put into practice the recommendations made in the 21st Century Citizenship report."
P21 is currently working to develop digital materials which will provide practical assistance to ensure students leave school prepared to participate fully and effectively in our civic life, including hands-on examples for making 21st century citizenship and learning possible. P21 and its members and partners are proud to collaboratively fuel innovative and effective thinking around the future of 21st century teaching and learning.
Learn more at http://www.P21.org/Citizenship.
About P21: P21 is a national organization that advocates for 21st century readiness for every student. As the United States continues to compete in a global economy that demands innovation, P21 and its members provide tools and resources to help the U.S. education system keep up by fusing the 3Rs and 4Cs (critical thinking and problem solving, communication, collaboration and creativity and innovation). While leading districts and schools are already doing this (see P21's Exemplar Program), P21 advocates for local, state and federal policies that support this approach for every school.
P21 Members: Apple Inc., Bahcesehir K-12 Schools, Cable in the Classroom, The College Board, Common Sense Media, Crayola, Destination Imagination, EdLeader21, EF Education, Education Networks of America, Follett, Ford Motor Company Fund, Gale Cengage Learning, Goddard Systems Inc., Intel Corporation, JP - Inspiring Knowledge, Learning.com, LEGO Education, National Board for Professional Teaching Standards, National Education Association, PBS, Pearson Foundation, People to People Ambassador Programs, Project Management Institute Educational Foundation, U.S. Fund for UNICEF, VIF International Education, and The Walt Disney Company.
P21 Leadership States: Arizona, California, Illinois, Iowa, Kansas, Kentucky, Louisiana, Maine, Massachusetts, Nevada, New Jersey, North Carolina, Ohio, Oklahoma, South Carolina, South Dakota, Vermont, Wisconsin and West Virginia.