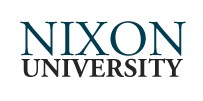 Albuquerque, NM (PRWEB) January 25, 2014
One of the most established names in the world of online education, Nixon University has certainly achieved another milestone in its decade-long history. The University, known for its amazing variety of courses has proven yet again that it is the best provider of online education to working adults all over the globe.
A recent internal survey carried out by the management of Nixon University revealed that ten schools of the University have been rated as the most popular based on the number of student applications. These were (in order of highest enrolments):
1. Nixon School of Business and Management
2. School of Criminal Justice
3. School of Computer Sciences
4. School of Engineering
5. School of Nursing
6. School of Education
7. School of Health Sciences
8. School of Social Sciences
9. School of Law
10. School of Applied Arts
The School of Business and Management has taken the first place as a huge number of students seeking to acquire an online MBA in the subject apply and graduate every year. The School has world class business professionals as faulty members who strive to inculcate skills in the students that will help them to maintain their positions amid competition. Equal emphasis is placed on education and application of knowledge to real life situations which is the reason why these graduates are sought after by recruiters all over the world.
The star rating by the students of Nixon University is proof of the fact that the standard of education at the University is on par with that being provided at traditional institutes of education all over the world. The studies reflect the latest happenings in the industry and the teachers also strive to connect the students with the actual conditions real world. In addition, Nixon University's Career Forum is the ultimate career portal for students to groom themselves for their professional future.
"This rating is a proof of the trust that students place in us and indicates the extent to which we have achieved our goals," the Dean of Nixon University was quoted as saying.
About Nixon University
Nixon University is an online educational institution that offers accredited and globally recognized degrees to those who cannot pursue their studies from traditional educational institutes due to their work or personal commitments. Nixon University provides you with an opportunity to improve your career prospects by academic advancement, without interrupting your personal and professional life.