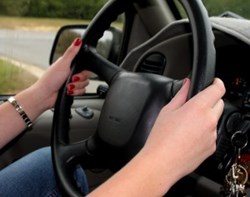 Researchers compared the result of a one-year, 100-car study with newly licensed and experienced drivers
New York, N.Y (PRWEB) January 29, 2014
Although teens may begin their driving habits with caution, as months pass behind the wheel, they begin to multi-task at higher frequency rates exposing themselves to increased crash risks, a study published in the Jan. 2 issue of the New England Journal of Medicine states. The study, conducted by researchers at the Virginia Tech Transportation Institute (VTTI) concludes that novice drivers are more likely to engage in high-risk secondary tasks such as dialing cell phones, eating and talking to passengers.
Researchers found that likely distractions for new drivers versus experienced motorists include handling of a cell phone to dial or text, reaching away from the steering wheel, looking at something alongside the road and eating. For the purposes of this study, researchers compared the result of a one-year, 100-car study with newly licensed and experienced drivers. The data revealed that compared to experienced drivers, novice drivers engaged in secondary tasks less frequently during the first six months. However, novice drivers were twice as distracted as experienced drivers after 16 month of starting to drive, the study showed.
This study re-emphasizes the importance of being focused while driving regardless of age or experience, said New York personal injury lawyer Kenneth A. Wilhelm. "Distractions while driving include not only the use of electronic devices, but also activities such as eating, drinking or talking to passengers. It is crucial for all drivers to stay focused on the roadway while driving."
It is also essential that young drivers continue to remain vigilant, Wilhelm says. "Safe driving practices that young motorists learn when they get licensed must continue in the long run. Older adults in the household should lead by example and refrain from driving while distracted. Driving while distracted is a rapidly growing problem, not one that is exclusive to teen drivers."
About the Law Offices of Kenneth A. Wilhelm
The Law Offices of Kenneth A. Wilhelm is a personal injury litigation firm with an unwavering dedication to its clients. With more than 42 years of experience, our firm strives to obtain the best compensation for those who have been injured or those who have lost a loved one due to an accident or by someone else's negligence. We handle cases dealing with personal injury, medical malpractice, wrongful death, train accidents, workers' compensation, dental malpractice, motor vehicle accidents, pedestrian accidents, rape, paralysis, comas, seizures, false arrest, lead poisoning, trips and slips and falls, falls on sidewalks or stairs, elevator accidents, construction accidents, Erb's palsy, cerebral palsy, brain damage, blindness, hearing loss, dog bite cases, fire and smoke inhalation accidents, bicycle accidents, falls from windows or scaffolds, food poisoning injuries, and many other types of accidents and injuries.
Please contact our New York personal injury attorneys TOLL FREE 24 hours a day, 7 days a week at 1-800-WORK-4-YOU (1-800-967-5496). WE CAN EVEN COME TO YOU. There is no attorneys' fee unless we recover money for you. We can also help with personal injury cases in New Jersey, Connecticut, Pennsylvania, or Florida. If you have been seriously injured in any of the 50 U.S. states, please call us and we will try to help you with your case.
Other TOLL FREE phone numbers for us are:
1-800-RADIO-LAW, 1-888-WYPADEK, OR 1-800-LAS-LEYES
The Law Offices of Kenneth A. Wilhelm
445 Park Ave, 9th Floor
New York, NY 10022
(212) 545-7373
Please visit us at: http://www.WORK4YOULAW.com