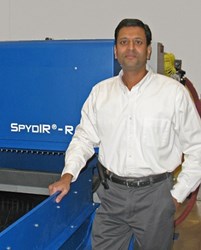 Nashville, TN (PRWEB) January 23, 2014
Thiru Ilanchelian has been named Sales Manager of National Recovery Technologies (NRT), reporting directly to NRT President Matthias Erdmannsdoerfer. In this role, Thiru will guide NRT's sales and marketing functions globally. NRT provides a wide range of optical sorting equipment for a variety of industries, including materials recovery facilities, secondary plastics, e-waste and mineral separation.
"This is the next step for NRT as we continue to grow. We're fortunate to be in a position to hire someone of Thiru's caliber to lead our sales team," said Erdmannsdoerfer. "NRT has long led the industry in technology innovation and customer service. I feel confident that with Thiru in place, our sales team will be ahead of the curve, helping our customers find the right custom solutions for their business and the first-class customer service that we've become known for."
"NRT has achieved so much in its history as a thought-leader and provider of best-in-class equipment, and has so much potential moving forward," Ilanchelian said. "NRT is made up of experienced leaders who do the right thing for their customers, and our technology has some clear advantages. Our value proposition is very strong and I look forward to leading our team as we bring it to markets throughout the world."
Prior to joining NRT, Thiru was the Business Development Manager at Magotteaux, Inc.'s North American Cement and Utilities division. In addition to his business development background, he has successfully led technical and non-technical sales teams and has extensive project management experience. Thiru has a BS in Mechanical Engineering from PSG College of Technology and an MBA from Georgia College & State University.
About NRT
NRT is a recognized world leader in automated industrial inspection systems, materials handling, and process control, particularly in processing of materials for recycling. NRT was founded in 1981 as a developer, manufacturer and installer of high performance systems in the field of on-line industrial inspection and material separation. The company's equipment utilizes NIR, Color RGB Line-Scan, X-ray, and electromagnetic sensing technologies, among others. In 2012, NRT was acquired by Eugene, Oregon based BHS. NRT values technology innovation, quality of manufacturing and a strong commitment to customer support. For more information, visit http://www.nrtsorters.com.