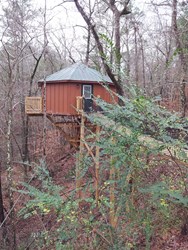 Atlanta, GA (PRWEB) January 24, 2014
Glamping, or glamorous camping, has become increasingly popular over the past few years as travelers have become more environmentally aware. Glamping allows travelers to experience nature without all the hassles and discomfort of traditional camping. Georgia destinations are getting in-touch with this trend and creating more unique lodging options for visitors to enjoy.
Historic Banning Mills, the ultimate outdoor adventure park located in Whitesburg, GA., home to the World's Longest Continuous Zip-Line Canopy Course, includes over 9 miles of zip lines, aerial courses and sky bridges. With this much airborne action, why not stay up in the sky for the majority of your vacation?
Historic Banning Mills recently added a way for guests to branch out with accommodations by adding comfortable stand alone tree house lodging so that guests can zip, climb, soar and sleep in the treetops. Banning Mills tree house suites are suitable for couples and include a king bed, jetted tub, private bathroom and panoramic forest views with rope bridge access. The rooms are made from heart pine logs featuring our New Aspen Log king beds and pillow top mattress, and a double jetted tub. Each room has a mini refrigerator, coffee maker, satellite television and a deck on the back that overlooks the forest: ideal for two guests. Prices start at $209 for one night and $189 for each additional night. Rates are based on double occupancy. To learn more, visit http://www.historicbanningmills.com/, or call 770-834-9149.
Georgia State Parks System also has a unique accommodation option in five of their parks, and "Yurt" not going to believe these accommodations! Guests looking to spend the weekend in the woods but who do not want to pitch a tent or haul an RV should try camping in a yurt. Yurts are available at Cloudland Canyon, High Falls, Red Top Mountain, Tugaloo and Fort Yargo state parks. Think of a yurt as a tent that is already set up for you. Made of wood and canvas, they feature a deck, picnic table and grill/fire ring outside. Inside you will find furniture to sleep six, electrical outlets, large windows and locking doors. A water spigot is located outside. All you need to bring are sleeping bags or linens, cooking utensils, a cooler, food, and family or friends. Yurts are approximately, $70 per night with a minimum of a two night stay. For additional details and/or reservations, guests should call 800-864-7275, or visit http://gastateparks.org/unique.
Waterfalls and lakes, salt marsh and mountains are just some of the beautiful environments of the 48 state parks. Most state parks offer fishing, boating, hiking, camping, geocaching, birding and more. Accommodations include campsites, cabins, lodges, even yurts, and vary by park. Among the 15 Georgia State Historic Sites are presidential homes, ancient Indian mounds, battlefields, plantations and even a gold museum. Georgia's public libraries have Park Passes and Historic Site Passes that can be checked out like a book. Annual ParkPasses are $50 (or just $25 for seniors 62 and older). Even better, membership to Friends of Georgia State Parks & Historic Sites includes a free ParkPass and more discounts. Campers can pick up loyalty cards that earn them every 10th night for free. For additional details on Georgia State Parks guests should call 800-864-7275, or visit http://gastateparks.org/.
The Hike Inn is a Georgia State Park property located in the heart of the Chattahoochee National Forest. This is not your typical hotel. Guests park their cars near the top of Amicalola Falls and then make the five mile trek to the entrance of the Inn. This hike takes between two and four hours to complete. The Hike Inn offers 20 rooms that include bunk beds, linens, shelves, a stool and a mirror. The rooms do not have any outlets and the use of electronics is highly discouraged. Showers and waterless composting toilets are available in a separate bath house. The Hike Inn serves a family-style breakfast and lunch each day. Guests who don't want to spend their days hiking can enjoy the Sunrise Room, a room full of books, board games and puzzles. Another unique feature is the Inn's Star Base, a celestial calendar designed by Atlanta's Fernbank Science Center. Rooms at the Hike Inn are $97 for single-occupancy and $140 for double-occupancy. Please call 800-581-8032, or visit http://gastateparks.org/HikeInn.