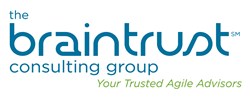 Birmingham, AL (PRWEB) January 24, 2014
The Braintrust Consulting Group announced that they will host a Scrum Essentials class on February 10, 2014 in Atlanta, Georgia at the Hampton Inn & Suites-Galleria location from 8:30 a.m.-4:30 pm. This announcement was part of Braintrust's unveiling of their national training class schedule for 2014.
The one-day Scrum Essentials class offers attendees an in-depth immersion into the world of Scrum. Scrum is a simple yet incredibly powerful set of principles and practices that help teams deliver products in short cycles, enabling fast feedback, continual improvement, and rapid adaptation to change.
Scrum Essentials is an ideal class for software architects, software developers, software development managers, and systems analysts who are interested in aligning development efforts around delivering the highest business value features first and increasing customer satisfaction and time to market delivery, among the other benefits of Scrum.
This class is an introduction to Scrum that requires no prerequisites and is full of practical, real world techniques that attendees can implement immediately at their workplace. Hands-on exercises demonstrate key concepts and let attendees experience the benefits of Scrum firsthand. As a takeaway, participants will receive a printed class manual, Scrum reference card and thumbdrive loaded with articles, class exercises, whitepaper, and more. The class also fulfills one of the requirements for the Certified Scrum Developer certification.
The Braintrust Consulting Group chose Atlanta because it is one of the fastest growing high-tech urban centers in the nation. Braintrust President, Brian Rabon said, "Our decision to host classes in Atlanta was based on the city's commitment to the more than 13,0000 technology based companies. We are proud to contribute to their technology industry by bringing our world-class training to Atlanta."
John Miller, CSP, PMP, will teach the class. Miller is an IT professional with over 15 years of industry experience. He is a Certified Scrum Professional (CSP) from the Scrum Alliance, a Project Management Professional (PMP) from the Project Management Institute, ITIL Foundations Certified, State Government Certified Project Manager from the Government, Information Technology agency (GITA), and a Certified Support Center Director from the Help Desk Institute. He is also a frequent presenter at technology conference and was a speaker at Scrum Alliance Global Gathering in Atlanta. As an Agile Trainer and Coach with The Braintrust Consulting Group, Miller provides complete project management services for a wide range of software related projects.
To sign up and learn more details about the Scrum Essentials class as well as other upcoming Braintrust classes, please visit: http://braintrustgroup.com/class/scrum-essentials-se-atlanta-ga-10-february-2014/.
About The Braintrust Consulting Group
With offices in Birmingham, Alabama, Los Angeles, California, and Salt Lake City, Utah. The Braintrust Consulting Group is a worldwide leader in Agile transformations. Through practical, hands-on training and enterprise and team coaching, we help our clients learn, plan, and implement Agile processes, such as Scrum and Kanban. Our goal is to teach our clients how to increase predictability of delivery, decrease time-to-market, and improve overall client satisfaction. http://www.braintrustgroup.com