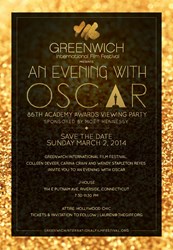 We're committed to making this a festival that appeals to people from around the world who love film and visual arts. We want to help independent artists get their work out there, and help connect them with industry professionals so their work can be seen.
Greenwich, CT (PRWEB) January 28, 2014
The Greenwich International Film Festival will host its launch event, An Evening with Oscar, Sponsored by Moet Hennessey, at the J House in Riverside CT, March 2nd, 2014. An Evening with Oscar is the first of many events the Greenwich Film Festival will host, leading up to their inaugural Film Festival in the summer of 2015.
"We're extremely overwhelmed with the tremendous support from the community thus far, and can't wait to launch this amazing event in accordance with the Academy Awards" says Carina Crain, Chief Executive Officer and co-founder of the festival. The GIFF has been gaining a lot of attention throughout the Greenwich community, and also features many prominent members of the film and finance community on its Executive board, including Jed Stuart, critically acclaimed action screenwriter most known for movies such as Die Hard and the Fugitive, George Walker, CEO of Neuberger Berman, and his wife Nancy Dorn Walker; Mark Teixeira, New York Yankees first baseman and beloved Greenwich resident; Clay Pecorin, Greenwich native and producer of such movies as "The Big Wedding" starring Robert DeNiro and Diane Keaton; Jenna-Bush Hager, correspondent on the Today Show and Richard Brenner of New Line Cinema.
The Greenwich International Film Festival will host events, screenings, and panels quarterly until its three-day festival launch in June 2015. The GIFF was founded by Carina Crain, Coleen deVeer, and Wendy Stapleton Reyes.
About Greenwich International Film Festival:
The Greenwich International Film Festival is a not-for-profit international film festival celebrating the art of visual storytelling. The Festival hopes to help filmmakers showcase their work and connect them with film industry professionals. It's greater mission to educate and entertain!
The Greenwich International Film FestivalTM will be an annual not-for-profit event headquartered in Greenwich, Connecticut bridging the worlds of film and finance. Located just 45 minutes northeast of New York City, It is an ideal venue for a festival celebrating film and the visual arts.
Our mission is simple:

To further enhance the cultural life of Greenwich
To provide an attractive venue for aspiring filmmakers to expose their product
To bring to the attention of the critics and the public. Films of merit which would not ordinarily have access to the resources typical of high-budget Hollywood productions
To attract the interest of the people of Greenwich who have the taste and wherewithal to render the creative talents of up and coming filmmakers less familiar to the cinema world