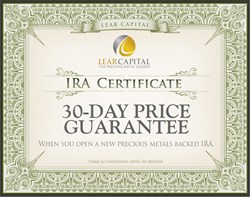 With a weakening dollar, expanding government debt, and a bloated money supply … a precious metals backed IRA makes particularly good sense.
Santa Monica, CA (PRWEB) January 23, 2014
Who says there are no guarantees in life? Lear Capital in Santa Monica, California has one very worth considering. The Precious Metals Leader has just initiated a 30-Day Price Guarantee on new Precious Metal IRA accounts. This provides unique investment protection, particularly in the current inflated marketplace. When one diversifies with a Precious Metals IRA account and the price of the gold, silver, platinum or palladium held in the account drops within 30 days of opening it … Lear will adjust the value back to the market. It just doesn't get any more secure than that.
Most financial experts recommend that at least 10% to 20% of our financial portfolios contain precious metals. Rolling a portion of an existing IRA into physical metals is an easy way to accomplish this. While active, employer-based retirement plans are not eligible for rollover into gold or silver, most traditional IRA's, Roth and SEP accounts are. An IRA account with the solid backing of physical metals provides critical diversification for investments that are exclusively tied to paper
Safekeeping an IRA account has becoming increasingly more important to baby boomers and those on the doorstep of retirement. Since most employers can no longer afford to fully subsidize our retirement and most no longer "match" the 401K funds that we have had deducted from our pay checks, investors must be more proactive than ever. The days of working for decades at the same company … growing up, growing old, collecting our gold watch, and cashing out our lavish pension are long gone.
In addition, the paper markets that now back our retirement accounts have proven to be highly volatile. Large percentages of our financial holdings can double over the course of several weeks or be wiped out in a single afternoon. And let's not forget the prognosis for Social Security. With a weakening dollar, expanding government debt, and a bloated money supply … a precious metals backed IRA makes particularly good sense.
A Lear Capital representative can assist investors with a new or rollover IRA account as well as specific metal selections. IRA eligible gold coins and bars must be .995 fine. Eligible silver coins must be .999 fine. Platinum coins that are .9995 fine can be included in an IRA along with .9995 fine Palladium bars and rounds. It's also important to remember that all or part of an existing IRA can be rolled into physical metals. The regulations for IRA eligible metals apply to Traditional IRAs as well as Roth and SEP (Simplified Employee Pension) accounts.
Lear Capital has been America's Precious Metals leader since 1997 helping customers diversify their portfolios with bullion, premium rare coins, and by adding physical metals to an existing IRA account. For investors looking to realign their asset allocation, maintain an aggressive hedge against global volatility, or secure tangible retirement protection, Lear Capital has a plan.
Lear Capital maintains an A+ rating with the Better Business Bureau and is a PCGS (Professional Coin Grading Service) Authorized Dealer. In addition, they abide by the NGC's (Numismatic Guaranty Corporation) coin grading Standard of Integrity, and support the ICTA (Industry Council for Tangible Assets) on issues of taxation, IRS regulations, and legislation that impacts all tangible assets.
Lear Capital can be contacted through their website at: http://www.learcapital.com or at 800-576-9355. The new Lear Library filled with Free Gold and Silver reports and Free White Papers is available at http://www.learlibrary.com.