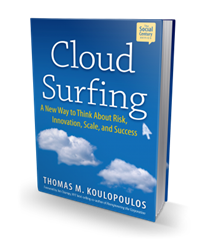 Prepare yourself and your business for the greatest era of disruption, prosperity and progress the world has ever experienced.
Boston, MA (PRWEB) January 24, 2014
In Cloud Surfing, Tom Koulopoulos gave readers a new way to think about risk, innovation, scale, and success in Cloud computing. Now, with Dan Keldsen, he is back to prove that the hyperconnected generation (Gen Z) is changing business forever. The book, tentatively titled The Gen Z Effect: How the Hyperconnected Generation is Changing Business Forever will be published by Bibliomotion in November 2014. The book will be available for pre-order on Amazon in February.
John Willig Literary Services, Inc. represented the authors.
About the book:
One of the most profound changes in business and society is the emergence of the post-Millennial generation, Gen Z. While every new generation has faced its share of disruption in technology, economics, politics and society, no other generation in the history of mankind has had the ability to connect every human being on the planet to each other and in the process to provide the opportunity for each person to be fully educated, socially and economically engaged.
What might this mean for business, markets, and educational institutions in the future? In this revolutionary new book, The Gen Z Effect: How the Hyperconnected Generation is Changing Business Forever, authors Tom Koulopoulos and Dan Keldsen delve into a vision of the future where disruptive invention and reinvention is the acknowledged norm, touching almost every aspect of how we work, live and play. From radical new approaches to marketing and manufacturing to the potential obliteration of intellectual property and the shift to mass innovation, to the decimation of our oldest learning institutions through open source and adaptive learning, The Gen Z Effect provides a mind-bending view of why we will need to embrace Gen Z as the last, best hope for taking on the world's biggest challenges and opportunities, and how you can prepare yourself and your business for the greatest era of disruption, prosperity and progress the world has ever experienced.
About the authors:
Thomas Koulopoulos is the founder of the Delphi Group, which for 25 years has been providing thought leadership to global organizations on the intersection of business and technology. Named one of the industry's most influential information management consultants by InformationWeek magazine, he is a recognized author on the subject, frequently appearing in national and international print and broadcast media, includingBusinessWeek, the Wall Street Journal, Forbes, The Economist, CNBC, CNN, and NPR. Tom is the author of nine previous books, including Cloud Surfing. Said the late Peter Drucker, father of modern day management theory, "Tom's writing makes you question not only the way you run your business but the way you run yourself." For the past two decades, his books have forseen major shifts in business and technology, from the rise of Internet Search engines, to the advent of Social Media, to the impact of the cloud on businesses and consumers. Gen Z follows that trajectory, providing a prescient view of how tectonic shifts in generational behavior, demographics and technology will forever change the way we live, work and play. Visit him at http://www.TKSpeaks.com.
Dan Keldsen is a Senior Business Strategist at NFP Health, where he leads the company's outreach and engagement with the market, and serves as an internal business and technology strategist. He has over 20 years of experience working as a technologist, consultant, and analyst with clients in health insurance, financial services, pharmaceuticals, "big box" retail, loyalty marketing, mobile commerce, life insurance, with companies from the Fortune 50 to federal and state government agencies. Dan co-led groundbreaking research on attitudinal differences and alignment between boomers and millenials in one of the earliest Enterprise 2.0 research projects (2007-2008) and was noted as one of the Most Influential Enterprise 2.0 Writers of 2009 by SeekOmega. He is a frequent speaker and has been quoted in the Wall Street Journal, The Economist, InformationWeek, CMSWire and FierceContentManagement, among other publications.
More about Bibliomotion, books + media:
Bibliomotion is a book publishing house designed for the new publishing landscape. While many publishers work to retrofit old processes for new realities, Bibliomotion was founded by book-industry veterans who believe the best approach is a fresh one – one that focuses on empowering authors and serving readers above all else. Moving away from the top-down model that has dominated the publishing process for years, we give each member of the team – including the author – a seat at the table from the very beginning and in doing so, work side-by-side to launch and sell the best content possible, making it available in a variety of forms.
There are no sure bets in publishing, but at Bibliomotion we believe there is a winning formula:
Exceptional Content – we select ideas very carefully and offer formats for all types of
Visible Authors – we select authors with many planks on the platform, and coach them to build more
Community Building – we build communities around our authors and ideas, and invite readers in
Good Will and High Touch – a spirit of close collaboration between author and publisher that translates to greater potential for our books
Fun – better be, or it's not worth doing!