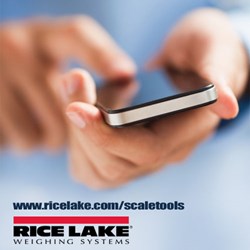 Rice Lake, WI (PRWEB) January 24, 2014
As the average scale technician's toolbox moves further into the electronic age, a growing collection of apps for the weighing industry can now be found through Rice Lake's corporate website at RiceLake.com/ScaleTools.
The apps are gaining quick popularity as a convenient resource for scale dealers and service technicians. At RiceLake.com/ScaleTools, users will find an electronic Load Cell Wiring Guide for cross-referencing wiring color codes, calculators for MicroVolts Per Graduation and Class III Tolerances, and a Shrink Calculator that helps justify a livestock scale investment. The apps can be used from any internet accessible device, and bookmarked as an icon on everything from smart phones and tablets to desktop PCs.
Rice Lake Weighing Systems is a family-owned, ISO 9001 certified corporation based in the United States. Headquarters, metrology laboratory and main manufacturing plant are located in Rice Lake, Wisconsin with support facilities throughout the world including North America, South America, India and the Netherlands.