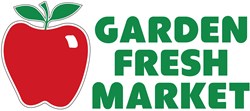 By moving to Buffalo Grove we're able to stay very close to our long established customers while offering a shopping experience in a store that has a larger format but is still convenient
Buffalo Grove, IL (PRWEB) January 24, 2014
Garden Fresh Market will open a new store in Buffalo Grove at the site of a former Dominick's Finer Foods located at 770 S. Buffalo Grove Rd in the first weeks of March.
The company's nearby location in Wheeling will continue to operate until the opening of the new store. Garden Fresh Market, an independent 5-store grocery chain in business for over 30 years, has an established reputation in the area having operated a store at 1786 Hintz Rd in Wheeling for nearly 20 years. By moving its location to the former Dominick's Finer Foods, Garden Fresh Market is able to operate in a larger store which was recently remodeled. The company expects to expand its wide variety of consumer products, including a new liquor department, a full-service meat butcher, fresh bread baked on-site, and a diversified shopping cart to save its customers an extra trip.
"The opportunity to take over the Dominick's in Buffalo Grove was an easy decision to make. Our store in Wheeling is very small and in need of remodeling. By moving to Buffalo Grove we're able to stay very close to our long established customers while offering a shopping experience in a store that has a larger format but is still convenient," said Golan Mor, General Manager. In anticipation of a quick turnaround, Garden Fresh Market has already met with the Village of Buffalo Grove to discuss its plans, and applied for a Liquor License, and permit for signage.
Garden Fresh Market says that it had tried several different ways to reach out to Starbucks regarding its location within the store. When those attempts failed, Garden Fresh decided to reach out to a local coffee roaster. "We decided that maybe this was an opportunity to work with a local company that can supply us with high quality coffee and give us the know-how on how to operate a successful café," Mor said. In working with local companies Metropolis Coffee Company of Chicago and Rishi Tea of Milwaukee, Garden Fresh Market will leverage its strength as a local company by working with other local businesses. "The success our stores is based on catering to the want of the neighborhoods we serve and live in," Mor said. That same approach will also apply to the status of the Pharmacy. Local company, Kedvon Pharmacy, will be opening its third location inside the Garden Fresh Market.
The new store will be larger than the store in Wheeling, but it is not the company's largest location. That distinction is assigned to its store in Mundelein. With the larger store, the company expects to more than double its sales accomplished in the Wheeling location.
The company has emphasized that the Wheeling store will remain open until Buffalo Grove is ready to open in March. "The Village of Wheeling has been a great place to do business. We are sad to move our store from Wheeling, but we are excited to forge new relationships," said CEO & President, Adi Mor. Garden Fresh Market will make an announcement closer to the opening date when it has established a precise date.