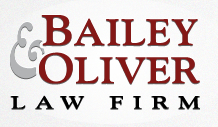 ...how focus groups can help you determine how and along what lines to develop your case
ROGERS, ARK. (PRWEB) January 23, 2014
Rogers-based personal injury lawyer Sach Oliver of Bailey & Oliver Law Firm will present "Using Focus Groups as a Tool to Tighten Your Case" on Friday, Jan. 23 at the Arkansas Bar Association's Mid-Year Event in Memphis, Tenn. The presentation is scheduled to take place from 9:30-10:30 A.M. in the Peabody Hotel's Continental Ballroom.
This year, the Mid-Year Event will include CLE presentations by lawyers from across the country, along with non-CLE events and entertainment throughout Friday and Saturday. The Mid-Year Event is one of the Arkansas Bar Associations largest social events, and allows Arkansas lawyers many educational and networking opportunities.
During the presentation, Oliver will address how focus groups can help you determine how and along what lines to develop your case. He will present on how to use focus groups and what works. Licensed lawyers that have registered for the Mid-Year Event will be eligible for one hour of continuing legal education (CLE) credit for attending the presentation.
Oliver is a partner at Bailey & Oliver Law Firm in Rogers, Ark. He specializes in 18 wheeler accidents, construction site accidents, medical malpractice, nursing home abuse, personal injury, product liability and wrongful death, and is licensed to practice across the state of Arkansas. He is recognized by the American Association for Justice, the Arkansas Trial Lawyers Association, and Best Lawyers.
To learn more about Sach, or Bailey & Oliver Law Firm, please visit http://www.baileyoliverlawfirm.com.
About Bailey & Oliver Law Firm
Bailey & Oliver Law Firm serves personal injury clients throughout Arkansas. With offices in Bentonville, Rogers, and Benton County, the firm's lawyers are dedicated to fighting for the justice that injury and accident victims deserve. Bailey & Oliver Law Firm believes that every person should have access to skilled legal counsel, regardless of their financial situations. Contact the firm today to schedule a free and confidential case evaluation by visiting baileyoliverlawfirm.com or by calling 479-202-5200.
Bailey & Oliver Law Firm
3606 Southern Hills Blvd,
Rogers, Arkansas 72758
479-202-5200