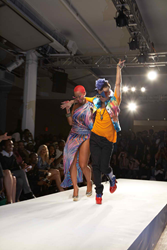 Saturday Night LARGE is arguably the number one weekly, reoccurring Saturday Night event in the area.
St. Petersburg, FL (PRWEB) January 23, 2014
Debacle ENT is excited to announce that the international celebrity fashion designer, INDASHIO, will be guest hosting their event, 'Saturday Night LARGE' at the Downtown St. Petersburg nightclub, 260 FIRST, on Saturday January 25th, 2014. INDASHIO, who frequently appears and is featured in the media including MTV's "8th & Ocean" and "MADE," and HGTV's "Selling New York." In addition, he was crowned the winner of VH1's "GLAM GOD," hosted by Vivica A. Fox.
Since the age of 19, INDASHIO has made a name for himself at fashion weeks around the world, notably, as one of the youngest talents ever to show at New York Fashion Week. INDASHIO is well known for incorporating charitable organizations, such as the "Make-A-Wish" foundation, into his fashion shows becoming known as the "Humanitarian Designer". He has expanded his brand beyond his clothing creations with a fragrance and styling celebrities for magazines. INDASHIO also maintains a very long list of celebrity clients such as Kim Kardashian, Tyra Banks, Nicky Hilton, Janice Dickinson, Nicki Minaj, Amber Rose, Christina Milian, Johnny Weir, Lil Kim, Kathy Lee Gifford, Kelis, Aubrey O'day, Kat De Luna, and Denise Richards only to name a handful.
260 First is downtown St. Petersburg's newest premier nightlife destination. Combining an understated elegance and late night vibe, 260 FIRST is both a party hot-spot and social mecca that features everything from state of the art cryogenic systems, train horns and confetti cannons to excellent customer service and some of the most tasty libations found in the perpetually growing downtown nightlife district
INDASHIO will be hosting, 'SNL: Saturday Night LARGE at 260 FIRST', arguably the number one weekly, reoccurring Saturday Night event in the area. Coined and powered by the Tampa Bay based promotions and marketing group Debacle ENT, llc. Debacle ENT continuously raises the bar for service and customer expectation, always striving to elevate the customer experience.
260 FIRST opens at 10pm and closes at 3am. "SNL: Saturday Night LARGE" is a weekly, reoccurring event on Saturday Nights which caters to a 21 and up crowd. Ladies can expect complimentary admission all night to this event although due to an expected high attendance volume it is suggested to arrive early to avoid any entry delays. The nights soundtrack will be provided by one of Central Florida's most talented mixers, Justyn "DJ SPINDIANA JONES" Dial of the Las Vegas based "Beatclan" and Tampa Bay's "WPOI-FM" aka "HOT 101.5 FM".
About Debacle ENT:
Founded in 2006, the Tampa Bay, Florida based company Debacle ENT, LLC is a nationally recognized, multifaceted hospitality marketing, advertising, management and consulting group. Unique in their blend of corporate professionalism and industry experience, Debacle ENT has become known as one of the most cutting-edge organizations of its kind.