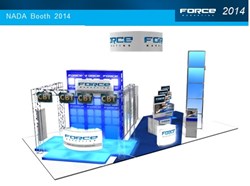 Atlanta, GA (PRWEB) January 24, 2014
Force Marketing is looking forward to attending the upcoming National Automotive Dealers Association Convention & Expo, going on this weekend in New Orleans.
This year will mark the Atlanta-based automotive direct mail, digital and email marketing firm's largest presence at the popular NADA convention since the first show the team attended in 2007. Thirty associates from a broad variety of departments will be in attendance at the company's booth, #5846.
The 20x40-foot Booth #5846 will even be home to a professional studio and sound stage, as Force Marketing has partnered with CBT News for this year's show. Bridget Everett and Russell Brown, hosts of CBT News, will be broadcasting live from Booth #5846 every day of the convention.
Additionally, filming will be underway each day for the Force FEED Video Series, an upcoming weekly video series focusing on the automotive industry and innovative marketing solutions.
The entire Force Marketing team is looking forward to meeting with dealers, vendors and other industry professionals at the conference. "2013 was a fantastic year in the automotive industry, and we believe 2014 will be even better," said John Fitzpatrick, Force Marketing President and CEO. "We are incredibly excited to showcase everything our team has to offer at Booth #5846 at this year's event."
In addition to gaining insight from the team at Force Marketing and demoing exciting services and solutions, NADA 2014 attendees will also have the opportunity to come away from Booth #5846 a winner. Force Marketing will be giving away a $1,000 gift card. Convention attendees can enter with a business card at the booth. The drawing will be held at 4 p.m. on Sunday, the second day of the convention.
Those attending this year's NADA 2014 are encouraged to schedule an appointment to meet with a Force Marketing team member, or to stop by Booth #5846 anytime during the conference this weekend.
ABOUT FORCE MARKETING
Force Marketing is an automotive direct mail and digital marketing company headquartered in Atlanta, Ga. The company offers marketing services to an expansive client base throughout the U.S. and Canada. The company made Inc. magazine's 500|5000 list of the fastest-growing private companies in the U.S. in 2012 for the fourth consecutive year. More information about their auto dealership marketing services can be found online at http://www.forcemarketing.com.
ABOUT CBT NEWS
CBT News/Car Biz Today, is an online news source dedicated to providing the retail automotive industry with news, training and event coverage through various forms of multi-media journalism. The online news source has more than 25,000 subscribers made up of new car dealers and their personnel. CBT News is home to award winning broadcasters and is headquartered in Atlanta, Ga. Learn more at http://cbtnews.com/.