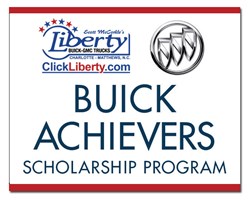 It is important for businesses to help shape the next generation of leaders and innovators in our communities. Scott McCorkle, Liberty Buick GMC
Charlotte, NC (PRWEB) January 27, 2014
With higher education expenses forever on the rise, Scott McCorkle of Liberty Buick GMC wants the Charlotte community to know about the General Motors Foundation and its Buick Achievers Scholarship Program. The Program created in 2011 is designed to assist students who excel in the classroom while also giving back to the community, a chance for an advanced education with support for tuition. Since its inception, the Scholarship Program has provided $16.5 million in scholarships to students throughout the United States.
"I believe it is important for businesses to help shape the next generation of leaders and innovators in our communities," say McCorkle. "This program could help many kids in Charlotte who are applying to local universities get a solid education they might not be able to afford otherwise."
This year's program will award 100 scholarships of up to $25,000 a year, renewable for up to four years. The undergrad must be seeking a college degree in of one the four disciplines that relate to the automobile industry – science, technology, engineering and math. Scholarships can be used at any four-year accredited college of university in the United States or Puerto Rico, excluding proprietary and online schools).
"It's very exciting for me to help spread the word about my company's scholarship program," says McCorkle. "Technology in our industry is changing the way we are all driving today, and it will continue to change how we live in the future. To be able to help a young person become educated in a technology field that will inevitably change the world is very rewarding."
To learn more about the General Motors Scholarship Program, stop in to Liberty Buick GMC at 9028 East Independence Blvd, Matthews NC. Or call (866) 442-0871.
To apply for a scholarship for the Buick Achievers Scholarship Program applicants can go to http://www.buickachievers.com. Applications will be accepted until Friday, February 28th at 5 p.m. EST.