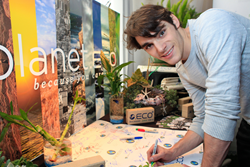 STAMFORD, Conn. (PRWEB) January 24, 2014
Over 100 actors, celebrities, and studio executives stopped by planet.ECO®'s booth at the 2014 Golden Globe awards to sign the WALL OF CARE showing their support and to chat about why they care about the environment and the planet. The goal of getting 1,000,000 signatures started last year at the Emmy's and continued during the Golden Globes. Some of the celebrities that attended the GBK Golden Globe Gift Lounge include: RJ Mitte of "Breaking Bad," which won Best Drama TV Series, Megan Hayes from "The Hunger Games: Catching Fire," and Michael Rooker from "The Walking Dead."
planet.ECO® has been building a unique platform where people, organizations, celebrities,and companies can gather to show they CARE, and encourage others to CARE about all things ECO, including our planet. Best of all planet.ECO® is available to anyone to join.
About planet.ECO®
planet.ECO® LLC plans to be the next wave of consciousness by facilitating care to actions that protect the environment and combat climate change, while supporting economic and social prosperity. The planet.ECO® team which includes the founder of Network Solutions, has created an Internet communication platform uniting users who care and want to translate their concern into action by connecting and engaging others to provide or find goods and services that promote sustainability. planet.ECO®'s own concern for the planet is reflected in their commitment to ensure that 5% of pre-tax operating costs go to environmentally-conscious organizations and causes. Visit the planet.ECO® website: http://planetdoteco.com/