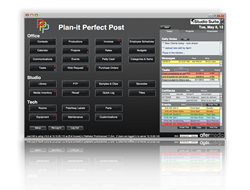 "Studio Suite started as my own personal management tool before it was used by leading facilities around the world," says AlterMedia CEO Joel Stoner, "so I'm excited to make this trimmed down, simplified version available to one-man shops again."
Burbank, CA (PRWEB) January 24, 2014
Studio Suite SOLO allows users to manage their Contacts, Calendar, Budgets, Projects, Rates, Invoices, Equipment Inventory, Equipment Maintenance, physical & digital Media Assets and so much more, in a proven architecture that's used in leading media production facilities. Studio Suite Solo is available now for $299, and $199 for students.
"SOLO is a huge benefit to a small studio owner. Being able to do everything in one user interface is priceless," says Scott Costa of Narrative Post. "It simplifies the business side of things, freeing up time and mental space for creativity. Everything is in one place and connected: contacts, projects, media, equipment, invoices, etc."
Studio Suite SOLO is available at studiosuite.com, and includes a 30 day trial period.
Studio Suite is a powerful business tool that tracks and manages contacts, budgeting, scheduling, projects, invoicing, library & labels, media assets, equipment & media inventories, communications, maintenance, and more. It is a comprehensive software package that integrates with Final Cut, Avid, Pro Tools, QuickBooks, QuickBooks Online, MYOB & AccountEdge, Address Book, iCal, Outlook, etc..
After 17 years, AlterMedia continues to be the leader in studio management software, with over 6,000 users at more then 1,400 facilities in over 40 countries. The user-base includes leading production & post production companies, broadcast networks, rental houses, music studios, Fortune 500 corporations, local, state, and several branches of the federal government and military."