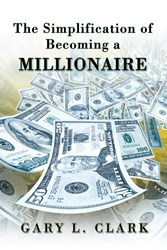 (PRWEB) January 27, 2014
Clark put in place strategies and stuck with them throughout the stock market's many up and downs. His advice and strategies are simple to follow, and can help almost anyone become a millionaire.
"Further, by becoming a financial advisor, I was able to build a financial planning practice, acquire clients, convince them take my advice, and follow strategies that helped many of them become millionaires as well." Ready to tap into your moneymaking potential? Don't wait any longer. Pick up a copy of "The Simplification of Becoming a Millionaire."
Watch the video at: http://www.youtube.com/watch?v=vKaUJKvLH2o&feature=youtu.be
About the Author: After a career as a financial advisor and money manager, Gary L. Clark is retired and lives in Clermont, Florida, about 20 miles west of Orlando. He was inspired to write his first book because of his personal success and the success that many of his clients also achieved by following simple strategies. It is a story he wanted to tell, and he hopes it will inspire others.
THE SIMPLIFICATION OF BECOMING A MILLIONAIRE (ISBN: 978-1-62516-854-2) is now available for $11 and can be ordered through the publisher's website:
http://sbprabooks.com/GaryLClark or at www(dot)amazon(dot)com or www(dot)barnesandnoble(dot)com.
WHOLESALERS: This book is distributed by Ingram Books and other wholesale distributors. Contact your representative with the ISBN for purchase. Wholesale purchase for retailers, universities, libraries, and other organizations is also available through the publisher; please email bookorder(at)aeg-online-store(dot)com.
Strategic Book Publishing and Rights Co, LLC