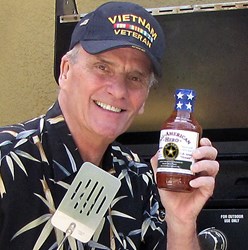 Why Veterans? They learned the hard way about the value of an outstandingwork ethic, leadership, loyalty to the team, and how to communicate. They get it done!
West Palm Beach, Florida (PRWEB) January 28, 2014
Just like many in the workforce today, our returning warriors from Iraq and Afghanistan and older Veterans are having an increasingly difficult time finding a job. One group that has been hit the hardest by high rates of unemployment over the course of the recession and accompanying weak labor market has been Veterans of the wars in Iraq and Afghanistan. Data from the U.S. Bureau of Labor Statistics show that the unemployment rate for Iraq and Afghanistan veterans is more than 20% higher than the rate for all Americans.
All-American Hero BBQ and Hot Sauce Company has developed a successful and affordable distributor program specifically for Veterans and active duty military to help get them back to a full or part-time profitable career.
Why Veterans? The company was started by a Vietnam Veteran who recognized the valuable skills former military have: They learned the hard way about the value of an outstanding work ethic, leadership, loyalty to the team, and how to communicate. They get it done!
Because many of All-American Hero's product sales are to Veterans and military supporters at live events such as fairs, car shows, green markets, flea markets, and patriotic and National holiday events, being a Veteran is critically important to the distributor's sales success. A bond of trust and brotherhood is created with customers because of the distributor's prior service. Half the fun of the sale is connecting with other Vets. The distributorships feature exclusive territories and a turnkey business model.
The distinctive "Sweet With A Little Heat" BBQ and Hot Sauce products feature five different labels: Army, Marines, Navy, Air Force and Coast Guard, appealing to anyone who supports our military heroes. In addition, 50% of company profits are donated to Veteran organizations. All-American Hero BBQ was founded on the principal of Veterans supporting Veterans.
About All-American Hero BBQ
John Magine, president, launched a private label barbecue and hot sauce brand in 2012 called All-American Hero, and is donating 50 percent of profits to many Veteran programs and Organizations.
The company has donated needed funds to The Wounded Warrior Project, Vietnam Veterans of America, The Women Veterans Health Care Program at the VA Medical Center, and Snowball Express, an organization that creates hope and new memories for the children of fallen military heroes who have died while serving on active duty since 9/11.
The BBQ sauce is a sweet blend of brown sugar, ketchup, orange juice, spices, and just the right amount cayenne heat.
The Tropical Fruit Habanero Hot Sauce is a delicious blend of habanero peppers, raisins, mango, whole oranges, pineapple juice, and natural sugar. It's awesome with pizza, wings, shrimp and seafood!
Distributor information is available at the company Web Site: http://www.allamericanherobbq.com (Click Distributor).
Contact: 415-250-2275, mail(at)allamericanherobbq(dot)com
http://www.allamericanherobbq.com/distributor.html
*OEF - Operation Enduring Freedom, OIF - Operation Iraqi Freedom, OND - Operation New Dawn)