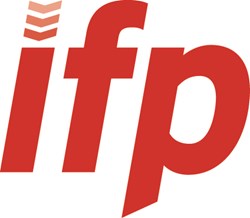 (PRWEB) January 28, 2014
IFP, Inc. (Innovative Food Processors) proudly introduces a new line of encapsulated food ingredients to replace ingredients formerly coated with partially hydrogenated oils (PHOs) . IFP's Non-PHO encapsulated ingredients include, but are not limited to, encapsulated salt, encapsulated citric acid, other encapsulated acidulants (fumaric, malic, tartaric, etc), encapsulated sodium bicarbonate, encapsulated caffeine, and encapsulated ascorbic acid. The newly developed Non-PHO coating systems can be applied to almost any dry, free-flowing food ingredient.
In November 2013, the US-FDA proposed the removal of partially hydrogenated oils from the GRAS list. IFP is confident in the duplicate or improved performance properties of their new encapsulated ingredient coating system. The coating system is enhanced by IFP's PrimeCAP® encapsulation technology that applies microscopic coating layers – thinner and more elongated, to provide further enhanced performance properties into IFP's ingredients.
PHOs were formulated into hot-melt coatings in the 1980's to improve "flex-properties" of otherwise brittle fully-hydrogenated coatings. Flex-Properties improved survival through physical stress as well as freeze-thaw conditions.
"Knowing that PHO reformulating was coming, we developed our new coating system over the past three years, so we are very confident in the performance of our new Non-PHO coating systems," said Walt Zackowitz, Marketing Director of Specialty Ingredients for IFP. "These new specialty ingredients will allow functional food and nutrition formulators to confidently move to Non-PHO ingredients and ensure meeting quality standards."
For samples or more information on IFP, please visit our website, or e-mail us at sales(at)ifpinc(dot)biz.
IFP, Inc. develops, commercializes, and manufactures powder products that provide benefits beyond basic nutrition. They specialize in functional beverages, sports/ nutrition supplements and medical foods containing high value ingredients such as fibers and prebiotics , proteins, anti­oxidants, probiotics, natural sweeteners, vitamins and minerals and amino acids.